Dominic Raab has resigned as deputy prime minister after an inquiry found he acted in an intimidating and aggressive way with officials in behaviour that could have amounted to bullying.
Adam Tolley KC's investigation published on Friday concluded Mr Raab engaged in an "abuse or misuse of power" that "undermines or humiliates" while foreign secretary.
Rishi Sunak, who had spent the night agonising over whether to sack his key ally, accepted Mr Raab's resignation on Friday morning with "great sadness".
Mr Raab, who also quit as justice secretary, went down swinging, criticising the "Kafkaesque saga" and saying he had been warned that "unionised officials" were targeting him.
Mr Sunak filled the gap in his Cabinet by promoting two longstanding allies, with Alex Chalk becoming Justice Secretary and Oliver Dowden appointed as Deputy Prime Minister.
Downing Street suggested that Mr Sunak accepts his ally broke the ministerial code with what amounted to findings of bullying.
The Tolley report said Mr Raab acted in an "intimidating" fashion with "unreasonably and persistently aggressive conduct" in a work meeting while he was foreign secretary.
He also committed an "abuse or misuse of power in a way that undermines or humiliates" with a staffing move, which Mr Raab argued was key to Brexit negotiations on Gibraltar with Spain.
But Mr Tolley said he "introduced an unwarranted punitive element" while his conduct was inevitably "experienced as undermining or humiliating by the affected individual".
On a separate occasion while running the Foreign Office, Mr Raab was found to have caused a "significant adverse effect" on a civil servant after conveying a threat.
He was said to have issued "unspecified disciplinary action", suggesting there had been a breach of the Civil Service Code.
In a separate strand of the investigation, Mr Tolley praised the Ministry of Justice complainants' "courage" for coming forward with allegations that launched the inquiry.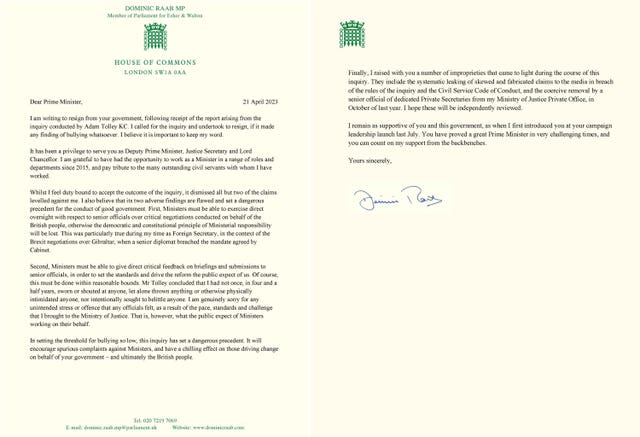 He made "unconstructive critical comments" about the quality of work, including criticising the absence of "the basics".
Mr Raab was found to have criticised the "obstructiveness" of officials and described some work as "utterly useless" and "woeful".
Though he stopped short of describing the conduct as bullying, Mr Tolley's findings were consistent with what he said what would amount to the offence under the Ministerial Code.
Behaviour that could be characterised as offensive, intimidating or insulting, or amount to a misuse of power in a way that undermines or humiliates would fall within the description of bullying, the lawyer wrote.
Mr Tolley said Mr Raab's conduct as Brexit secretary could not be characterised as offensive or malicious, though he said it was "experienced as intimidating, in the sense of excessively demanding".
Mr Raab said in his resignation letter to the Prime Minister that he was "genuinely sorry for any unintended stress or offence that any officials felt".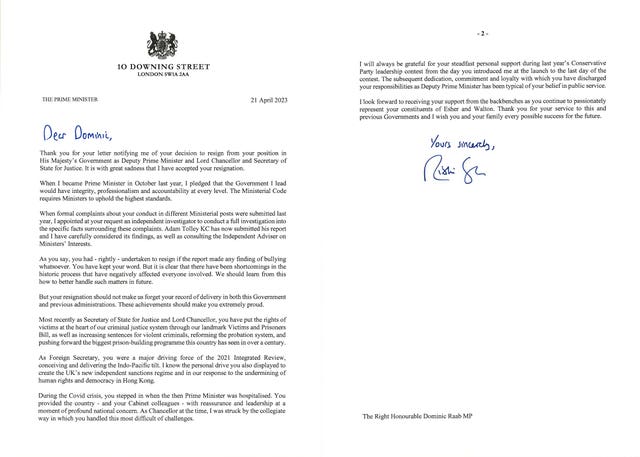 Mr Raab said the inquiry has "set a dangerous precedent" by setting a "low" threshold for bullying, which he says will "encourage spurious complaints".
Going further in an article for the Telegraph, Mr Raab said that the "Kafkaesque saga I endured was shorn of the safeguards most people enjoy".
And he claimed that the nation will "pay the price" if the threshold for bullying in government has been lowered.
He later told BBC News: "What you've got is the risk here that a very small minority of very activist civil servants, with a passive-aggressive culture of the civil service, who don't like some of the reforms – whether it's Brexit, whether it's parole reform, whether it's human rights reform – effectively trying to block government.
"That's not on, that's not democratic."
Sir Keir Starmer accused Mr Sunak of "continual weakness" by allowing Mr Raab to resign rather than sacking him, before hitting out at the outgoing minister's "whining".
But the Prime Minister's official spokesman suggested that Mr Sunak accepts Mr Raab broke the ministerial code with the finding of bullying.
Asked whether he would condemn the behaviour, the spokesman said: "Clearly any bullying in general terms is unacceptable and there are clear rules that apply to that."
The resignation comes months after the Prime Minister sacked Nadhim Zahawi as Conservative Party chairman amid controversy over his tax affairs.
Sir Gavin Williamson – another key Sunak ally – resigned only days into his premiership after it was alleged he sent expletive-laden messages to a former chief whip.
FDA union general secretary Dave Penman called for an independent inquiry into ministerial bullying following the investigation.
"His obviously reluctant tone and dismissal of the complaints says more about his conduct than any findings will.
"This resignation is not a vindication of the current system, it's a damning indictment of the inadequacy of a process that relies solely on the prime minister of the day to enforce standards," he said.
The Liberal Democrats demanded a by-election in Dominic Raab's Esher and Walton constituency in Surrey following his resignation.