Animal rights protesters stormed the track at Ayr Racecourse in a bid to stop the Scottish Grand National, despite an increased security presence.
Police Scotland arrested several people after Animal Rising said around 25 of its supporters invaded the track ahead of the £200,000 race.
The group, which last week delayed the start of the Grand National at Aintree, said activists were "attempting to attach themselves to jumps and gates" to stop the race, which Jack Tudor-ridden Kitty's Light went on to win.
The protest also failed to delay the event, with the off time in the 18-horse race recorded as 3.38pm.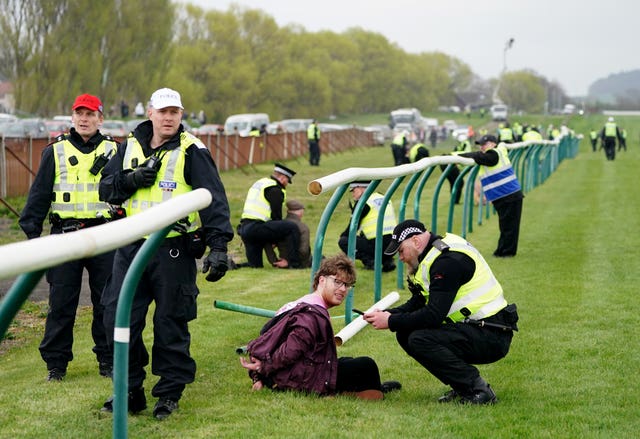 "Today we continue that conversation. As a society, we love animals, but we have to find a way to care for them without harming them," the protester said.
"This conversation is particularly important in Scotland where we have so much potential for nature and wildlife to thrive.
"We can all build a world that we are proud to be part of. An end to horse racing, as well as a transition to a plant-based food system, are key elements of this kinder, safer future."
But on Saturday it was just a handful of protesters who took part, and Ayr's managing director David Brown praised the swift action of the police and security teams on course.
"The race went off to time, there was no notable delay and the professionalism of the team up here in Scotland was a credit to them, they dealt with it in a very efficient manner," he said.
"What a great race it was and a great story, for Christian Williams to win it for the second year in a row with Kitty's Light, after he finished second last year. I think for me this is Scotland's showpiece race and it all ran to time."
Police Scotland said: "Officers are responding to a protest which is ongoing at Ayr Racecourse this afternoon.
"A significant operation is underway to safely remove those involved.
"A number of arrests have been made and an increased police presence remains at the scene."