SNP MP Stuart McDonald has been appointed party treasurer after the resignation of MSP Colin Beattie.
Mr Beattie stepped down from the role after he was arrested and released without charge pending further investigation into the party's finances.
Former party chief executive Peter Murrell – who is married to former first minister Nicola Sturgeon – was also arrested and questioned before being released without charge.
The police investigation centres on how more than £600,000 in donations to the party earmarked for an independence referendum was used.
The 44-year-old said: "While it is a difficult and challenging time, I look forward to getting on with the job of national treasurer to help take forward the important work being led by our new party leader, Humza Yousaf, to improve the SNP's governance and transparency.
"I've no hesitation in stepping forward when asked to do my part in keeping our party firmly on a campaign footing as the case for Scottish independence becomes more compelling that ever."
A key task for the new treasurer will be appointing auditors after accountants Johnston Carmichael, which worked with the SNP for more than a decade, resigned around September.
The party's accounts are due to be filed to the Electoral Commission in July.
Mr McDonald has held several jobs for the party at Westminster, and is currently the party's justice and immigration spokesman.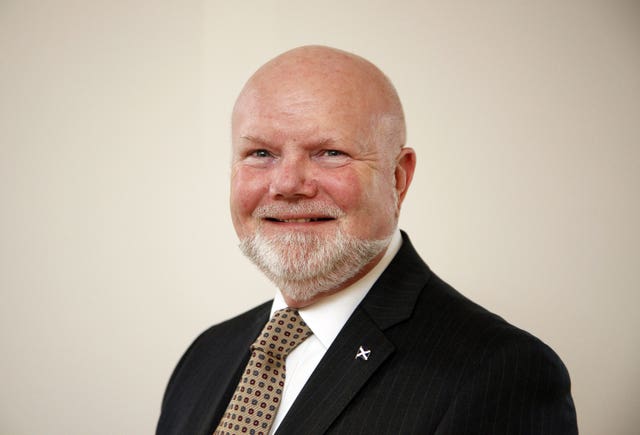 On Thursday, Mr Beattie, 71, said: "On a personal level, this decision has not been easy, but it is the right decision to avoid further distraction to the important work being led by Humza Yousaf to improve the SNP's governance and transparency.
"I will continue to cooperate fully with Police Scotland's inquiries and it would be inappropriate for me to comment any further on a live case."
Scottish Labour deputy Leader Jackie Baillie said: "Stuart McDonald faces an uphill battle dealing with an SNP high command that clearly don't think the rules apply to them.
"Despite the SNP's ongoing crisis it has shown no willingness to change.
"It has failed to suspend senior figures embroiled in a police investigation, and its culture of cover-up and secrecy remain in overdrive.
"This arrogant and sleaze-ridden party needs to start operating with some much-needed transparency and consistency, but I won't hold my breath."
Scottish Tory chairman Craig Hoy said: "The scandal over the SNP's finances is becoming more toxic by the day – and the appointment of a new SNP treasurer will hardly reassure the Scottish public when so many urgent questions remain unanswered.
"Stuart McDonald has promised to improve the SNP's 'governance and transparency', he should start by coming clean over this murky saga.
"He must urgently clarify whether the SNP are in danger of folding due to their financial problems, whether they will be able to find replacement auditors before their annual accounts deadline, and whether the failure to suspend Peter Murrell is due to the party still owing him £60,000.
"The public are sick and tired of SNP secrecy. The new SNP treasurer must urgently put an end to these slippery tactics, if the public are to regain any faith in the party of government."