British nationals trapped in Sudan have said they feel "abandoned" by the UK Government as the Foreign Secretary warned that help will remain "severely limited" until a ceasefire is reached.
James Cleverly has faced questions about why British diplomats had been prioritised over other UK citizens following a night-time evacuation mission to rescue embassy staff from the African nation as internal warring rages on.
Some UK nationals stranded inside the country, who were advised to register their presence with the Foreign Office and shelter in place, were organising private evacuations as the prospect of help remained limited.
More than 1,000 British passport holders have registered with the Foreign Office and there are "easily a couple more thousand" who have not yet done so, he told the BBC.
William, a UK citizen in Sudan, told the broadcaster he was forced to "go private" and leave the capital, Khartoum, on a bus arranged by his Sudanese employer because "we've had absolutely nothing but nonsense from the Government".
Rozan Ahmed, a British-Sudanese woman stuck in the city since travelling to the country to attend her cousin's funeral nine days ago, said there has been no communication from the British Embassy about being evacuated.
"I have been hiding under my bed for the last six hours, the area where I stay has been shelled to shreds," she told Sky News.
"This has been the most harrowing experience of my life and my only focus right now is to get to my mother, who is probably more pained than I am, and I need to understand why we are still here."
Iman Abugarga, a British woman who has been sheltering in Khartoum, said she feels "absolutely" abandoned by the British Government.
"It is shameful how they have mismanaged this situation," she told the Telegraph.
Prime Minister Rishi Sunak confirmed on Sunday that there had been a "complex and rapid" evacuation of British diplomats and their families from Khartoum, a city gripped by an internal battle for control between rival generals.
More than 400 people have died and thousands have been injured in a bloody conflict between the Sudanese army and a powerful paramilitary group known as the Rapid Support Forces (RSF).
Mr Cleverly told broadcasters that the Government had decided to temporarily close the British Embassy in Khartoum and swoop in to remove staff after "specific threats" were directed towards diplomats.
He chaired a sixth emergency Sudan Cobra session late on Sunday to discuss the "escalation" of violence.
Defence Secretary Ben Wallace told BBC News the mission had been "dangerous and precarious", with 1,200 personnel involved from the British Army, Royal Navy and the Royal Air Force (RAF).
He said C-130 Hercules and A400 Airbus aircraft were deployed to "go in and collect our diplomats and their residents, and fly out to safety".
Labour praised the "bravery and professionalism" of the armed forces in carrying out the evacuation.
But senior Opposition MPs said they remain "deeply concerned" about the welfare of British nationals still in Sudan.
In a joint statement, shadow foreign secretary David Lammy and shadow defence secretary John Healey said: "We need to know about Government plans to help them and the steps the UK is taking to support an immediate ceasefire."
Their comments came after the Irish Government confirmed it plans to send a team to Sudan to evacuate Irish citizens.
The Sudanese Junior Doctors Association UK said it is aware of 71 NHS doctors who are currently trapped in Sudan.
"We are concerned for their safety and the safety of their spouses and children," the organisation tweeted.
"These are UK citizens or residents and a mixture of consultants and junior doctors.
"The situation is worsening and they need immediate evacuation from this war zone."
The Foreign Secretary said the decision to close the British Embassy in Khartoum and remove officials for redeployment within the region would help strengthen diplomatic efforts.
Mr Cleverly said the Conservative administration remains "absolutely committed to supporting" Britons in the country.
But he said that, without an end to the fighting, ministers are "severely limited in our ability to provide assistance to British nationals".
The prospect of airlifting large numbers of people out of Sudan has been complicated by the fact that most major airports have become battlegrounds and movement out of the capital has proved perilous.
US special forces also evacuated about 70 American staff from Khartoum on Sunday but Washington has so far said it remains too dangerous to carry out a government co-ordinated mass evacuation of citizens.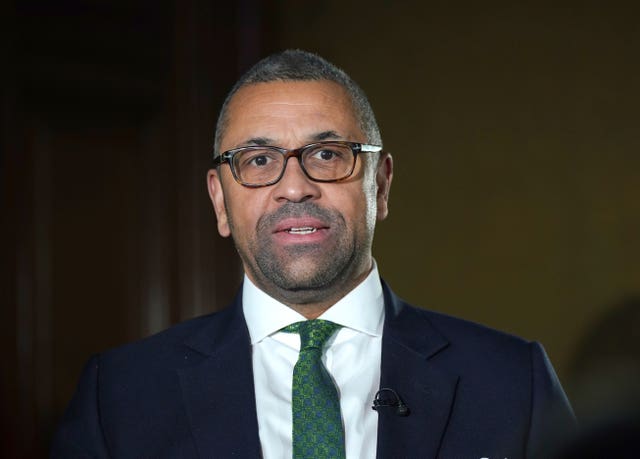 On Sunday, Mr Sunak spoke with Egyptian President Abdel Fattah al-Sisi, with the two leaders sharing their "deep concerns on the escalation in violence" in Sudan.
The current explosion of violence comes after two generals fell out over a recent internationally brokered deal with democracy activists which was meant to incorporate the RSF into the military and eventually lead to civilian rule.
No 10 said Mr Sunak also thanked Egypt – which shares its lengthy southern land border with Sudan – for its support in the evacuation of British staff.
The pair also discussed "further options for ensuring safe passage for civilians wanting to leave Sudan", according to Downing Street.