Labour are committed to the "mission" of halving incidents of violence against women and girls (VAWG), Sir Keir Starmer says.
The Labour leader held a roundtable discussion on Monday with campaigners and industry experts at St Giles Trust, a south London charity which provides support for a variety of at-risk groups, including services to help vulnerable women.
Speaking alongside shadow home secretary Yvette Cooper, Sir Keir said: "One of the things we are committed to is halving the incidents of violence against women and girls.
"Now that is a mission and we're on a mission.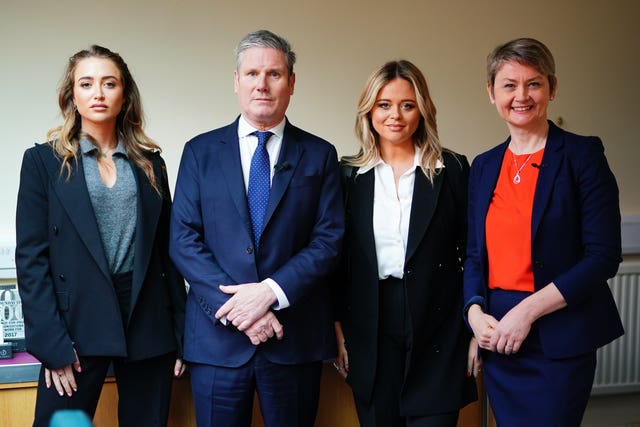 Listening to TV personality Georgia Harrison and actress Emily Atack, who have both spoken publicly of their experiences of VAWG, Sir Keir added: "My own work on violence against women and girls really started when I was director of public prosecutions in charge of the Crown Prosecution Service.
"I began to see first hand some of the problems within the criminal justice field, that awful journey that people have to go on through criminal justice, and it gave me a sort of burning determination to do something about it."
Leading the discussion on how a Labour government could achieve the goal of halving VAWG, Yvette Cooper asked the panel: "Imagine the thousands of women who face abuse, violence and domestic violence every single week.
"Then just imagine for a second if that level of violence and that level of homicide took place at football matches every week.
Ms Cooper added: "We must never accept this as normal, this kind of abuse and violence."
Ms Atack spoke at the roundtable discussion, after fronting a documentary into cyberflashing and sexual harassment.
She said: "Since the age of 10 years old I've experienced extreme levels of sexual harassment, abuse and sexual assault.
"This was something that I just had to put up with, but it was also behaviour that I realised that I was kind of brainwashed into thinking was my fault.
Former Love Island contestant Georgia Harrison also spoke at the event. Her ex-boyfriend, Stephen Bear, was jailed for 21 months in March after he shared a private video of them having sex.
Ms Harrison told Sir Keir "So many women have been let down by the justice system", saying there are loopholes that allow perpetrators to avoid conviction in cases of image-based sexual offences.
She added that social media and online platforms should be responsible for what is shared on their sites.
"These platforms need to be held accountable for what they are allowing to happen on their platforms to get more users," she said.
Sir Keir said eliminating VAWG is "never a job done".
He said: "Online, things are moving very fast, that means we have to constantly be on top of this, this is never a job done, it's going to have to be constantly working on it.
"We don't need any more discussions or reports or inquiries, we just need some action to start the work that needs to be done."