The rocketing cost of energy bills support and soaring debt interest saw UK government borrowing jump by more than £18 billion in the year to March, according to official figures.
The Office for National Statistics (ONS) said the public sector borrowed £139.2 billion in the past financial year – the fourth highest since records began and £18.1 billion more than in 2021-22, according to official figures.
This comes despite the Government forking out £41.2 billion over the past six months to support households and businesses with energy costs.
Sky-high inflation also pushed debt interest payments on public sector debt to £106.6 billion – 47% higher than the previous year as painful rises in Retail Prices Index inflation have increased the interest payable on index-linked gilts.
Chancellor Jeremy Hunt said the Government was right to spend on energy support in the cost-of-living crisis, but warned "we cannot borrow forever".
He said: "These numbers reflect the inevitable consequences of borrowing eye-watering sums to help families and businesses through a pandemic and (Vladimir) Putin's energy crisis."
He added: "We stepped up to support the British economy in the face of two global shocks, but we cannot borrow forever.
"We now have a clear plan to get debt falling, which will reduce the financial pressure we pass on to our children and grandchildren."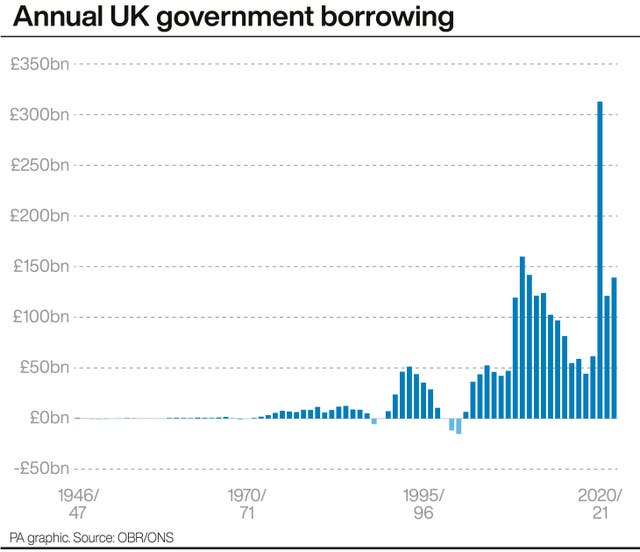 The ONS said it also revised its estimates for borrowing down by £14.6 billion in the 11 months to February.
Public sector debt, excluding state-supported banks, stood at £2.5 trillion at the end of March, or around 99.6% of gross domestic product (GDP), a ratio not seen since the early 1960s.
The estimates show that the public sector spent more than it received in taxes and other income last month, with £88.8 billion in receipts and £110.3 billion spent by the Government.
The amount borrowed in March was £14.5 billion more than in March 2020, at the start of the coronavirus pandemic, according to the ONS.
Energy bill support has seen government borrowing balloon since it was put in place last October to help households and businesses cope with rocketing gas and electricity bills following Russia's invasion of Ukraine.
Mr Hunt announced in last month's spring Budget that the energy price guarantee capping bills at £2,500 a year will be extended for households for another three months, from April to June.
The past financial year has also seen two of the highest months for interest payments on government debt on record.
Martin Beck, chief economic adviser to the EY Item Club, said the borrowing outlook for the year ahead would depend on economic output.
He said: "The OBR's forecast for GDP in 2023-2024 looks too low.
"If this proves true, borrowing this year should be lower than expected.
"However, the impact of a stronger economy on borrowing in the short term would likely be temporary.
"Further ahead, the Government's room for manoeuvre on fiscal policy will be determined by whether the OBR is able to maintain its much more bullish view on medium-term growth compared to the position taken by the other official forecaster – the Bank of England."