The Government continues to consider "all possible options" as calls grow for the evacuation of British citizens from Sudan after the US said a 72-hour ceasefire had been agreed by warring sides.
The three-day reprieve announced by Secretary of State Antony Blinken on Monday night has raised hopes of rescue efforts in the country after a defence minister earlier warned it was "too dangerous" to send British troops in to lead such a mission.
James Heappey had said any plan to deploy armed forces in Khartoum would be "unhelpful and unrealistic" but sought to assure "a number of other options" were discussed in Rishi Sunak's emergency Cobra meeting on Monday.
The armed forces minister told LBC's Tonight With Andrew Marr show: "The danger is that other than the very tight and controlled mission that we did Saturday into Sunday to extract the diplomats over which we had a very tight degree of control.
"Beyond that, we would effectively be inserting foreign troops, not just us there'll be other countries that would want to do it, into the parts of Khartoum that has been the most hotly fought over."
Of the Government's latest discussions on the crisis, he said: "It's not for me to tell you what decisions have been made, but obviously whatever decisions have been taken, we will now be resourcing overnight, so that once the solution is in place, if the Prime Minister chooses to go with it, he can then announce it."
It comes after a team of British troops were understood to have been flown into Port Sudan to scope out the options for any rescue mission of civilians.
RFA Cardigan Bay and HMS Lancaster were being lined up to potentially help people out of the war-torn country, where at least 2,000 British citizens remain after UK diplomats were removed.
Later on Monday, Mr Blinken said a pause in the fierce fighting had been brokered, which would extend a nominal truce coinciding with a Muslim holiday that brought almost no reduction in fighting but helped to facilitate evacuations.
Foreign Office minister Andrew Mitchell, who attended the Prime Minister's Cobra meeting earlier, said ministers would "bend every sinew" to help British citizens in the country if it was possible to do so.
But he warned a concrete plan had not yet been drawn up and urged UK nationals to stay indoors until they hear otherwise.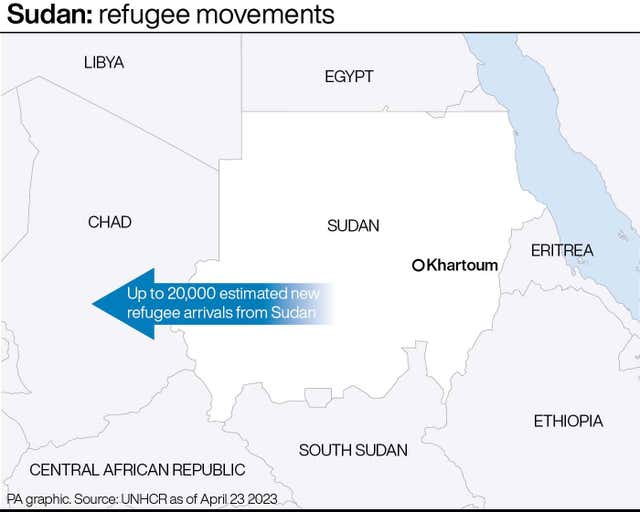 "Our strong advice to British citizens is to stay indoors. It's extremely dangerous out on the streets of Khartoum.
"If they wish to move because they have better information on the ground than we do in the Foreign Office then they may do so, but they do so at their own risk."
Commons Foreign Affairs Committee chair Alicia Kearns warned "time is running out" as she urged ministers to get on with rescue efforts "now".
But Mr Heappey insisted the situation in Khartoum is "very, very different" from the 2021 Afghanistan evacuation, when the Taliban gave a window of opportunity to get people out of the country.
"In Khartoum that's very different… There is very fierce fighting," he said.
Meanwhile, Downing Street confirmed British ambassador to Sudan Giles Lever and his deputy were out of the country when violence broke out in Khartoum.
The Prime Minister's official spokesman said: "I think it was around the time of Ramadan, that they were out of the country at that point.
"There were very senior staff still in the country and both those who were in country and the ambassador have been working around the clock to aid efforts."
It is thought that if used, RFA Cardigan Bay – currently in Bahrain, and HMS Lancaster – in India, would supplement possible flights out of Sudan.
Any mission would be highly complicated, however, with Port Sudan more than 500 miles from Khartoum.
Some British nationals have said they felt "abandoned" after diplomats were rescued in a night-time evacuation mission, and were organising dangerous private evacuations.
Speaking after the announced ceasefire, former British diplomat Dame Rosalind Marsden told the BBC's Newsnight: "I think obviously it's a positive step. We've seen now four or five ceasefires which of course haven't held.
"On the other hand over the last 48 hours there's been enough of a brief lull in the fighting to allow diplomats and other foreign nationals to get out, so let's hope that this latest announcement means it's going to be possible to build on that, and of course move forward to try to negotiate a more permanent cessation".
Mr Sunak said on Sunday there had been a "complex and rapid" evacuation of British diplomats and their families from Khartoum – a city gripped by an internal battle for control between rival generals.
Hundreds of people have died and thousands hurt in a bloody conflict between the Sudanese army and a powerful paramilitary group known as the Rapid Support Forces.
The prospect of airlifting large numbers of people out of Sudan has been complicated by the fact that most major airports have become battlegrounds, while movement out of the capital has proved perilous.