"Many more" flights carrying British nationals will leave Sudan into tomorrow, Rishi Sunak said as the first civilian evacuation plane out of conflict-torn Khartoum landed in Cyprus.
The Prime Minister said "over a thousand" UK citizens in Sudan have been contacted about extraction plans, with officials from the Foreign, Commonwealth & Development Office (FCDO) speaking to hundreds directly already.
UK nationals were being processed for evacuation at an airfield near the capital after an RAF mission was launched during a "volatile" ceasefire brokered between the warring factions.
Two more flights carrying around 220 people are expected overnight.
The UK will take over from German forces running the airfield near Khartoum on Wednesday, according to Defence Secretary Ben Wallace.
He said 120 British troops have already been supporting the operation.
Speaking at the FCDO's crisis hub in central London, Mr Sunak told broadcasters: "The first flight has taken everybody that was there at the airfield and could be processed.
"We actually have two more flights this evening, and then many more into tomorrow, which will be able to evacuate several hundred people if they can make their way to the airfield."
Mr Sunak said he could not "guarantee" the long-term safety of the air route being used given the volatility of the ceasefire, but other options were being considered.
Mr Wallace earlier said Royal Marines were scoping out a possible seaborne evacuation from the more "benign environment" of Port Sudan, some 500 miles from the capital.
HMS Lancaster and the RFA Cardigan Bay have been sent to the region.
Mr Wallace said there is "some risk that some of the planes are not full".
He told Channel 4 News: "We can take, really, who turns up at the moment.
"What we've learned from both seeing the German and the French evacuation is this is first of all not like Kabul, not thousands at the gate, and people are making their way. They're being processed."
"I think there is some risk that some of the planes are not full. We've seen that in the German planes and they've then resorted, understandably, to take some other fellow foreign personnel there if there's room."
Mr Wallace said the UK will take over the facilitation of the Wadi Saeedna site after Germany said it was operating its final flight on Tuesday evening following the evacuation of around 500 people from 30 nations.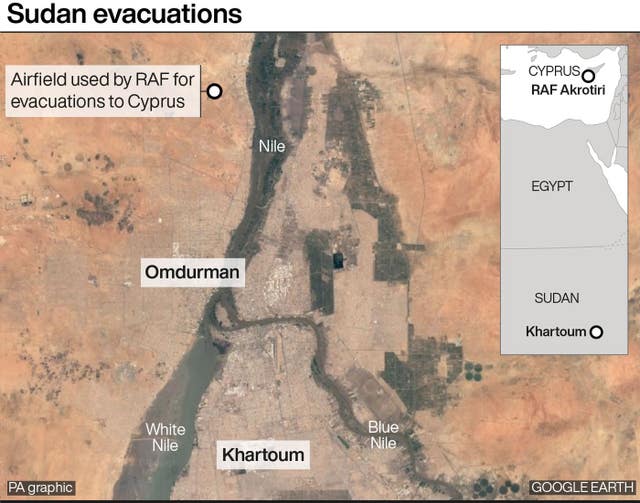 "The security situation on the ground in Sudan is complicated, it is volatile and we wanted to make sure we could put in place processes that are going to work for people, that are going to be safe and effective," Mr Sunak said.
He added that the UK is "working together with international partners to try and bring about a more sustained ceasefire and hopefully a return to civilian government in Sudan," describing that as the "best solution to avoid more humanitarian impact".
British passport holders are being urged to make their way to the airfield where priority will be given to the most vulnerable, with more than 2,000 citizens having registered in Sudan with the FCDO.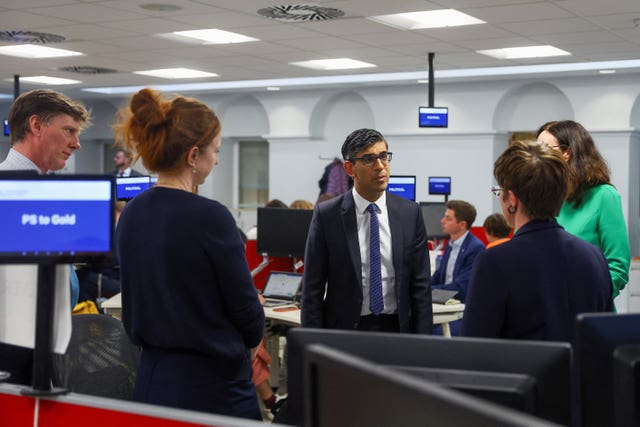 The Prime Minister thanked FCDO teams working on the evacuation effort and told them the next 24 hours are "absolutely critical".
"Your efforts are really, really helping, making a huge difference," said Mr Sunak, who was accompanied by Foreign Secretary James Cleverly.
"Keep at it… The next 24 hours are absolutely critical.
"We can make a big push as we're already doing and you can help us get everyone who wants to come home home."
Mr Mitchell told him 200 people are working on the UK efforts day and night.
Mr Cleverly earlier warned that it is "impossible" to ascertain how long the pause in fighting will last after the rival generals agreed to a 72-hour ceasefire.
Families with children or elderly relatives, or individuals with medical conditions, will be prioritised for the flights.
Only British passport holders and immediate family members with existing UK entry clearance are being told they are eligible.
Nationals have been warned that all travel within Sudan is "conducted at your own risk".