Sudan remains in a "dangerous, volatile and unpredictable" state as the RAF used a ceasefire to launch an evacuation of British citizens, the Foreign Secretary has said.
James Cleverly said UK nationals must make the risky journey to the airbase near Khartoum without a military escort and warned it is "impossible" to know how long the pause in the fierce fighting will last.
Evacuees will be taken from the Wadi Saeedna airfield, believed to be being secured by German forces, to RAF Akrotiri in Cyprus before being brought to Britain.
Priority on the flights open to British passport holders will be given to the most vulnerable, with more than 2,000 citizens having registered in Sudan with the Foreign Office.
Around 1,400 military personnel are involved in the evacuation effort that was launched following a 72-hour ceasefire agreed by the warring factions, the PA news agency understands.
"It is important to remember that ceasefires have been announced and have fallen apart in the past so the situation remains dangerous, volatile and unpredictable," he told broadcasters.
"It is impossible to predict how long the ceasefire will last. It is impossible to predict how long any other route to evacuation will remain open."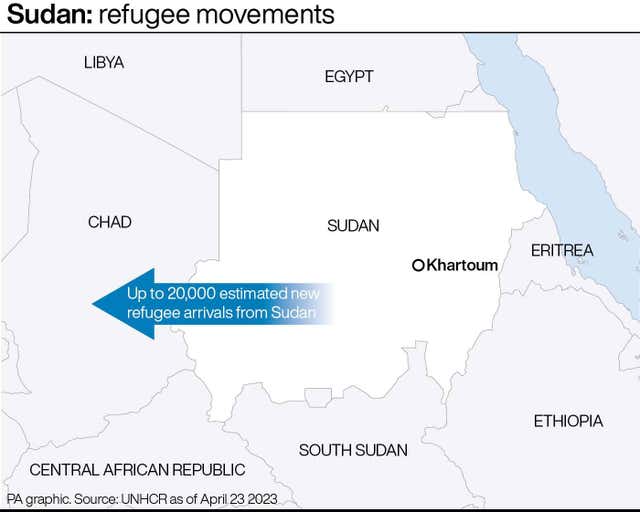 "We have said that we are unable to provide escorts from where British nationals are to the airhead, they will have to make their own way there – as indeed has been the case for the nationals of other countries," he said.
Mr Cleverly also defended the Government from suggestions it should have carried out evacuations of citizens sooner, as European allies had succeeded in doing.
"The circumstances for each individual nation are different. There are considerably more British nationals in Sudan than other countries have got," he said.
An RAF C-130 Hercules carrier capable of carrying around 100 passengers that has travelled back from Khartoum to Cyprus was understood to have been carrying an advance team, rather than being the first evacuation flight of the operation.
The Prime Minister described the evacuation as "large scale" as he paid tribute to the armed forces, diplomats and Border Force staff carrying out the "complex operation".
He said Britain will work to "end the bloodshed" in Sudan.
Later addressing his Cabinet, Mr Sunak said there had been a "specific threat" to the safety of diplomats before their evacuation on Sunday.
Families with children or elderly relatives, or individuals with medical conditions, will be prioritised for the flights.
Only British passport holders and immediate family members with existing UK entry clearance are being told they are eligible.
Nationals have been warned that all travel within Sudan is "conducted at your own risk".
Other exit routes were being considered, with two British military ships, RFA Cardigan Bay and HMS Lancaster, being lined up for possible evacuations.
A team of British troops is understood to have flown into Port Sudan to check out the options.
Sir Nicholas Kay, a former British ambassador to Sudan, warned that the situation during the ceasefire remains "precarious".
He told BBC Radio 4's Today programme: "The security situation can change very quickly, the command and control over forces isn't complete and there is no trust between the two sides, so they might kick off again."
The former diplomat warned that moving around Khartoum could be "very difficult", with the bridges crossing the Blue and White Nile rivers being controlled by the armed groups.
US Secretary of State Antony Blinken announced that a three-day ceasefire had been brokered. It would extend a nominal truce over Ramadan that did little to stop fighting but did facilitate some evacuations.
More than 420 people, including at least 273 civilians, have been killed since fighting began on April 15, and a further 3,700 have been wounded.
The Foreign Office stressed that "senior diplomats" will be supporting the evacuations, after it emerged that British Ambassador to Sudan Giles Lever and his deputy were out of the country when violence broke out in Khartoum.
The latest figure for UK citizens registering with the embassy for evacuation is about 2,000, but the true number of British nationals in Sudan could be higher.
Ministers have been under pressure to get the evacuations under way after a rescue mission of British diplomats was completed over the weekend. European allies have already removed hundreds of citizens.