Rishi Sunak said he was "confident we are on the cusp of" hitting the target of hiring 20,000 new police officers in England and Wales.
The Prime Minister said the goal was at the heart of his pledge on taking office to cut crime.
Opponents previously claimed the Government, which had until the end of March to reach the figure, was lagging behind its 2019 commitment to replace thousands of jobs cut during austerity measures.
Home Office data due to be published at 9.30am on Wednesday will confirm whether the milestone has been met.
Mr Sunak said: "When I stood at the steps of Downing Street six months ago, I made clear that I would do whatever it takes to cut crime and make our communities safer. At the heart of that pledge is recruiting 20,000 additional police officers.
"We await the final statistics expected today but, as I have previously set out, I am confident we are on the cusp of meeting that promise. This would be a significant moment, meaning we have more police officers in England and Wales than ever before.
"This is not only about putting more officers on our streets, it has also been a once-in-a-generation opportunity to change the face of policing, attracting more women and people from ethnic minority backgrounds, and making the police become more representative of the communities they serve."
The Prime Minister added: "While we are making good progress, we know we must go further."
He pointed to his plans to "stamp out anti-social behaviour for good", including increased policing in areas deemed to have high amounts of low-level crime, and more drug testing of criminals.
"I believe in the police. But the policing in which I believe isn't riven with political correctness but enshrined in good old-fashioned common sense."
Policing minister Chris Philp on Tuesday said he would be "very disappointed" if the Government does not hit its police recruitment target.
He also admitted he would be disappointed if the new recruits were not any good at their job when he faced questions from MPs on the manifesto pledge.
Mr Philp told the Commons Home Affairs Committee: "Clearly, the police have recruited a large number of new officers in recent years who are therefore, by definition, less experienced.
"It's really important that the sergeants and the inspectors who oversee them, mentor them, give them the support and the training they need."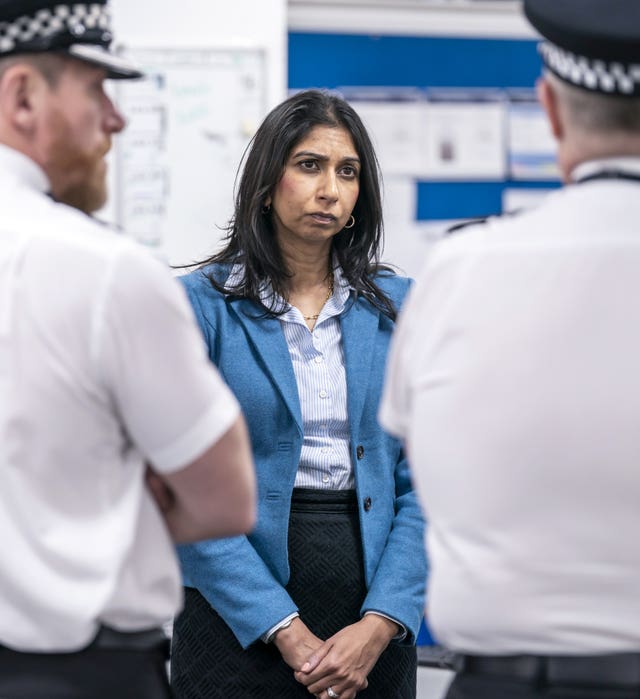 As of December, 16,753 officers had been hired as part of the recruitment campaign, meaning 84% of the target has been reached, with 3,247 recruits still needed.
According to The Sunday Telegraph newspaper, some police forces had been inviting back failed candidates as part of efforts to meet the target, which fuelled fears of rogue officers infiltrating the ranks.
The Home Office expected to spend £3.6 billion on the recruitment programme by March, with a total cost of £18.5 billion over the next 10 years, according to Whitehall's spending watchdog.
In June, the National Audit Office (NAO) warned the recruitment campaign would "exacerbate pressure" on a criminal justice system which is "already under strain" in the wake of the coronavirus pandemic.
It also said hiring police community support officers (PCSOs), special constables or police staff to fill the roles could lead to vacancies elsewhere in the service.
Meanwhile, inspectors from police watchdog His Majesty's Inspectorate of Constabulary and Fire and Rescue Services (HMICFRS) said problems at the Metropolitan Police had been exacerbated by the number of young and inexperienced recruits in the force as a result of the recruitment drive.
A month earlier, the outgoing chief inspector of constabulary, Sir Thomas Winsor, repeated warnings that the "sheer magnitude and speed" of the recruitment campaign "inevitably carries risks", adding that there is a "heightened danger that people unsuited to policing may get through and be recruited".
In October, Met Commissioner Sir Mark Rowley said he was reviewing the force's recruitment targets after questioning whether it is "wise" to hire thousands of new officers at speed.
Scotland Yard was meant to hire 4,557 extra officers during the recruitment drive.
The Home Office said all recruits are subject to a "rigorous" vetting process and must meet national standards in order to be hired.