Air evacuations of British nationals from an airfield near Sudan's capital can continue even if the fragile ceasefire breaks, military chiefs have assured.
More than 300 people have been airlifted from Wadi Saeedna airstrip near Khartoum since the pause in fierce fighting was agreed but thousands more may need help fleeing.
Brigadier Dan Reeve, chief of joint force operations, the RAF can move 500 people per day on five aircrafts but that could be increased by calling on more, or larger, planes.
More than 2,000 Britons have registered with the Foreign Office as being in Sudan under the evacuation operation.
The rival generals behind the conflict have agreed to a 72-hour ceasefire that started in the early hours of Monday.
"Having amassed the forces necessary to provide the Prime Minister with an emergency response option, very early on and ahead of almost any nation, we very deliberately took the decision to wait until there was a sensible window.
"I would say the window though is not conditional on that ceasefire holding.
"It won't be me that decides when the operation finishes, that will of course be the Prime Minister. We are well set to continue this operation for as long as we need to.
"I can see no reason at the moment why we can't continue to do that for as long as the Prime Minister wants us to."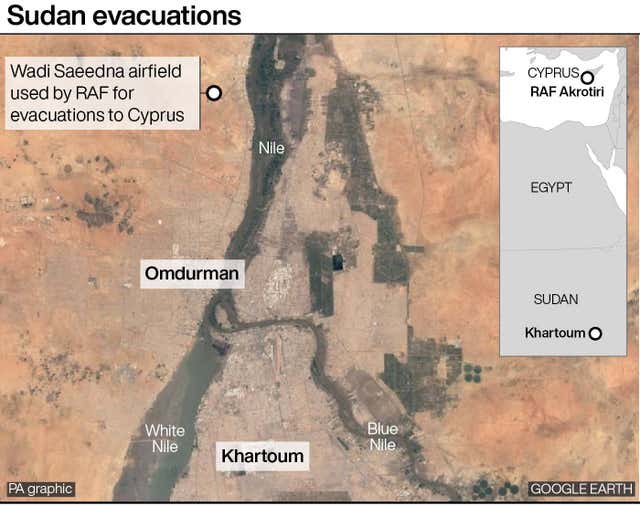 "Yesterday we just didn't have that number of people totally up to me to use up all those slots," the officer said.
He said the conditions at Wadi Saeedna are "calm" and that the Sudanese Armed Forces have "good control" of the surrounding area and deep towards Khartoum.
Britain has a "large number of troops on the ground", standing at around 160 troops.
The Germans have been running the logistics at the airfield but the British forces are in the process of taking over.
The queues of fleeing citizens have been "calm" with evacuees in "good spirits", Brig Reeve said.