The British evacuation mission from Sudan has lifted 536 people to safety on six flights, amid warnings there is no guarantee on further flights once the fragile ceasefire expires.
The Foreign, Commonwealth and Development Office (FCDO) said "in a fast-moving situation" these were the figures at 9pm on Wednesday "with further flights to come".
The military is racing against time to rescue citizens before the truce between the warring factions ends on Thursday night.
Foreign Secretary James Cleverly warned the UK "cannot guarantee" how many further evacuation flights will depart after the deadline is reached, as he urged UK nationals who wish to leave Sudan to make their way to the Wadi Saeedna air strip near the capital Khartoum "as soon as possible".
Another two RAF flights were expected to take off from the Wadi Saeedna air strip near the capital Khartoum on Wednesday, as the first flight of UK nationals arrived back in Britain.
Mr Cleverly tweeted: "The 72-hour ceasefire in Sudan ends tomorrow night (April 27).
"We cannot guarantee how many further flights will depart once the ceasefire ends.
"If you plan to leave Sudan please travel to the British Evacuation Centre as soon as possible."
Africa minister Andrew Mitchell said the evacuation mission was "going very smoothly" with "no great backlog, no great congestion" at the air strip.
But he warned "we are absolutely in the hands of the ceasefire".
Mr Mitchell told Sky News: "We are doing everything we can to make sure it's prolonged and on the wider stage, too, trying to negotiate for a longer ceasefire, because if the combatants don't lay down their arms and return to barracks, there's going to be a humanitarian catastrophe in Sudan."
He said that "at the moment those safe and legal routes don't exist" for refugees from Sudan to claim asylum in the UK.
Military chiefs have told Prime Minister Rishi Sunak at least 500 people a day can be airlifted and flights can continue "for as long as we need to" even if the 72-hour pause in fighting agreed between rival generals breaks.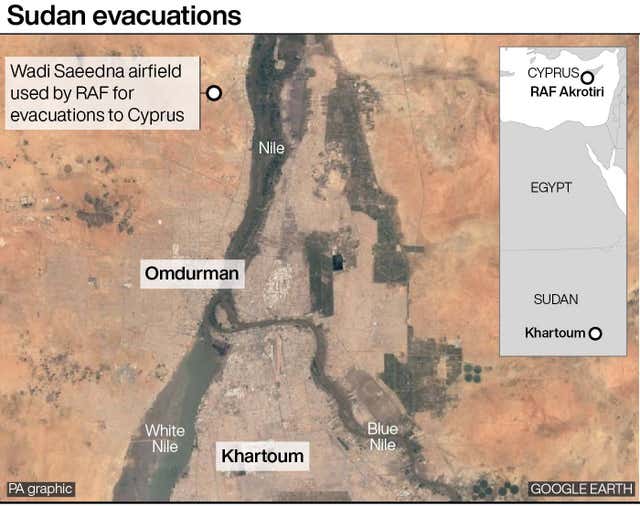 Only British passport holders and immediate family members with existing UK entry clearance are being told they are eligible for evacuation.
But Alicia Kearns, the Tory chair of the Foreign Affairs Select Committee, said elderly people dependent on children who are British citizens should also be admitted.
She told the BBC: "In the same way we treat children who are dependent on their parents, we should respect that some elderly people are dependent on their children.
"So, I think it is important that we are bringing people out who would otherwise be left destitute and really vulnerable."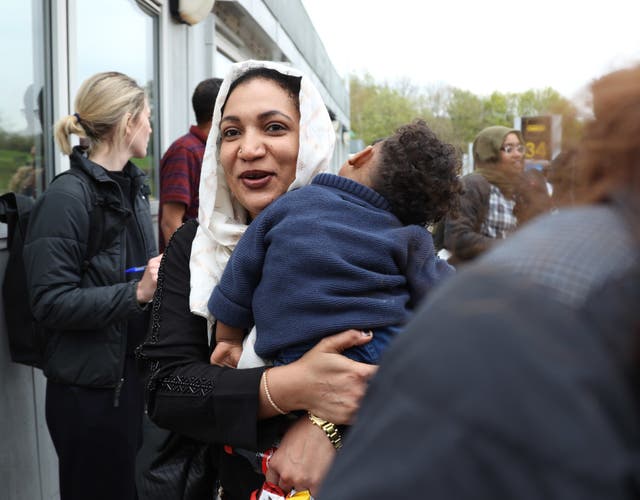 Women with small children and babies in prams, as well as elderly individuals in wheelchairs were among those met by family members and friends waiting anxiously in the arrivals lounge.
One man from Sudan, who did not give his name, described his experience as a "nightmare".
Speaking outside the airport, he said: "It's absolutely fantastic to be back. It's been a nightmare. We've never seen anything like it before.
"We saw it on the television before but we never thought it was going to happen to a peaceful country like Sudan.
"Khartoum is like a ghost city, everyone is leaving Khartoum now.
"We are very grateful to the British servicemen and women who risked their lives to come to Sudan and help us out.