The leader of the Liberal Democrats, Sir Ed Davey, has called for tighter regulation to stop the releasing of sewage into rivers and seas which he branded "a crime against nature".
The party has released analysis of Environment Agency figures that show water companies released sewage into England's chalk streams for 14,162 hours last year.
And there were 2,240 incidents of sewage discharges into chalk streams by five water firms – Anglian Water, Southern Water, Thames Water, Wessex Water and Yorkshire Water.
The party's analysis also states that one in five sewage discharges in chalk streams either had a faulty monitor or no monitor installed.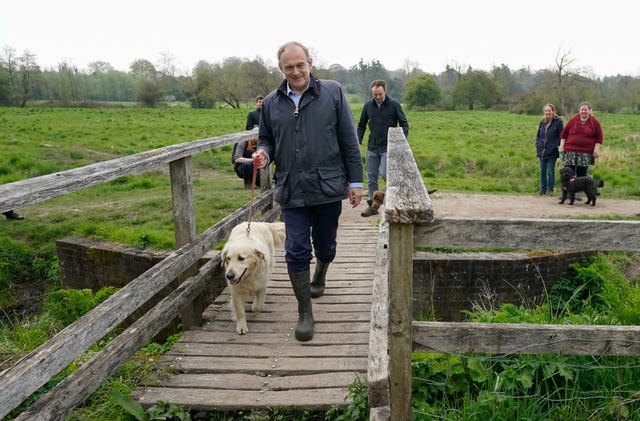 He said: "It's quite disgusting that the Conservatives keep allowing these water companies to pump their filthy sewage into our rivers and seas.
"These are very precious chalk streams and it's a crime against nature.
"Some people have thought they are almost like Britain's rainforests because they are so precious in the biodiversity they represent.
"Yet this Government is allowing water companies to pump sewage into these precious rivers and they are not allowing them to be monitored properly.
"One in five monitors of sewage dumping into chalk streams across our great country are not working or aren't even present, that's a scandal."
"These companies are making huge profits and they are not being regulated to put those profits back into investing to sort out that problem. That is wrong and the Government has been so weak and has not stopped it."
A Liberal Democrat spokesman said: "Today's new analysis of Environment Agency data finds they are being polluted with endless amounts of sewage discharges.
"The worst offender is Wessex Water, guilty of 1,013 separate sewage discharges into chalk streams across the West of England.
"The worst chalk stream sewage discharge lasted a staggering 2,969 hours in the River Till, a tributary of the Hampshire Avon in Wiltshire by Wessex Water, which is a designated Site of Special Scientific Interest as it is home to the water crowfoot, providing habitat for fish and snails.
"Meanwhile, Thames Water discharged sewage into the Misbourne in Buckinghamshire for 1,206 hours last year. Southern Water discharged sewage 62 times in the River Meon last year, lasting over 1,000 hours."
A Wessex Water spokesman said: "The Liberal Democrats' analysis fails to recognise that the overflow into the River Till is so clear that it is cleaner than the river itself, having arrived at the treatment works as nearly pure groundwater and gone through three treatment stages before being discharged.
"Regular monitoring has shown there is categorically no adverse impact from the overflow on the River Till or threat to the aquatic life."
A Water UK spokeswoman said: "Every water company is firmly of the view that urgent action is needed to tackle the harm caused by storm overflows and are committed to delivering ambitious plans that will help protect our precious chalk streams.
"Water companies are bringing forward £56 billion to replumb England in one of the largest infrastructure programmes ever. This includes removing every high-spilling overflow in England, and protecting sensitive sites."
A Department for Environment, Food and Rural Affairs spokesman said: "It is wrong to say the Government is doing nothing.
"We listed chalk streams as high priority in the Storm Overflows Discharge Reduction Plan which sets out the strictest targets ever on water companies to reduce sewage discharges.
"We are requiring them to deliver the largest infrastructure programme in their history – an estimated £56 billion in capital investment over the next 25 years, driving more improvements.
"Our ambitious Plan for Water also sets out the increased investment, tougher enforcement and tighter regulation needed to clean up our waterways and tackle this issue. We have recently confirmed £1.1 billion in new, accelerated investment to tackle storm overflows."