The Government has offered "flexibility" on a £300 million Stormont overspend as it tabled a budget for Northern Ireland.
Northern Ireland Secretary Chris Heaton-Harris, who has responsibility for setting the Stormont budget in the absence of devolved ministers in Belfast, outlined the funding plan for 2023/24 in a written ministerial statement at Westminster.
Devolution is currently in abeyance as a result of a DUP boycott of the institutions in protest at post-Brexit trading arrangements.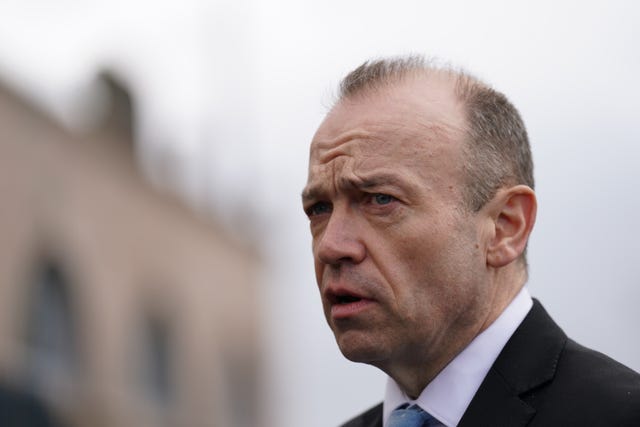 One of the main causes of concern surrounded the need for Treasury to recoup a £297 million advance down-payment it offered to help plug a financial blackhole in Stormont's finances last year.
It had been anticipated this would have been deducted from this year's budget.
Mr Heaton-Harris said money would be drawn back in a different way, with the potential for it to be spread over two years.
He said it could be repaid using any future in-year funds allocated to Northern Ireland by the Government through the Barnett system process in 2023/24 and, if that was not enough to cover the cost, then the remainder could be taken from other Government planned spending projects in Northern Ireland or recouped from the budget in the next financial year.
"This will provide some protection to frontline public services in Northern Ireland from having to take the most severe reductions. However, difficult decisions remain in order to live within the funding available," Mr Heaton-Harris said.
The budget has broadly resulted in a flat cash allocation compared to last year.
The total non ring-fenced resource budget for day-to-day costs is £14.211 billion, down on the £14.269 billion baseline of 2022/23.
The overall budget for capital projects is up slightly to £2.24 billion from £2.05 billion in the last financial year.
As expected, the amount allocated to the department of health has been protected and is up slightly – to £7.3 billion – as is funding for the department of infrastructure.
Other departments have seen their budgets reduced in cash terms from between 0.5% to 4.2%
The cuts are not as severe as some departments had been expecting given the £297 million overspend has not come off the baseline settlement.
"Despite the progress that has been made with the Windsor Framework (on post Brexit trade), it is with considerable disappointment that I find it is necessary for me to once again step in and set a Budget for Northern Ireland for 2023-24," said Mr Heaton-Harris.
"The challenging budget position means that Northern Ireland departments need clarity on their budget allocations now to deliver a balanced budget."
The new arrangement to deal with the £297 million overspend means that money that would ordinarily be distributed to Northern Ireland (as it is to other devolved regions) as a consequence of policy decisions resulting in funding increases in England will be retained by the Treasury.
That could have significant consequences for Stormont departments later in the year.
If for instance there was a national pay agreement for public sector workers struck by the Government, the money that would have flowed to Northern Ireland as a result will now be swallowed up paying off the Treasury downpayment.
While Mr Heaton-Harris has distributed the block grant among the Stormont departments, he will not be taking spending decisions needed within individual departments to ensure they balance their books.
Stormont permanent secretaries insist they should not be placed in the position of having to impose significant budget-balancing cuts, potentially impacting the most vulnerable in society.
They contend such decisions should be taken by democratically elected politicians and have urged the Government to issue ministerial directions for any major cuts that are required.
But Mr Heaton-Harris has made clear he does not intend to issue such directions, which means the decisions will fall on the civil service until such time as powersharing returns to Stormont.
Civil servants have already been handed some extra powers to take decisions usually reserved for ministers and Mr Heaton-Harris also tabled legislation on Thursday that seeks to extend those powers beyond their current expiration date of June 5.
The Bill also gives civil servants some fresh additional powers to undertake preparatory work on introducing new revenue-raising measures in Northern Ireland.
It enables the Secretary of State to direct civil servants to provide advice and run public consultations on a range of potential measures, such as the introduction of domestic water charges and dropping free prescriptions.
The proposed legislation would not empower the Secretary of State to introduce such measures in Northern Ireland, with the Government at this stage making clear that such decisions should be taken by a devolved executive.
Mr Heaton-Harris is meeting the main parties at Hillsborough Castle on Thursday to discuss the budgetary picture.