The UK's commitment to Ukraine is "flagging", Labour has suggested.
Shadow defence secretary John Healey sought assurances in the Commons over support for munitions, the country's recovery, and Ukrainian families in the UK, saying he was concerned that momentum is "faltering".
Defence minister Andrew Murrison said the suggestion was "just a little bit unfair", and insisted when it comes to support for Ukraine the UK is "leading in Europe".
Asking an urgent question in the Commons, Mr Healey said "all eyes are on Sudan" as the Government seeks to evacuate British nationals, but "the Government has got to be able to do more than one thing at once".
Mr Healey told MPs: "I am concerned that the momentum behind our military help is faltering and that our UK commitment to Ukraine is flagging.
"No statement on Ukraine from the Defence Secretary since January, no new weapons pledged to Ukraine since February, no 2023 action plan for Ukraine first promised last August, no priorities set for the Ukraine recovery conference in London in June.
"Now, the Prime Minister said in February that the UK 'would be the first country to provide Ukraine with longer-range weapons'. What and when?"
Mr Healey asked for clarity on UK commitments, adding: "Five thousand Ukrainian families were registered homeless last month – who is sorting this out?"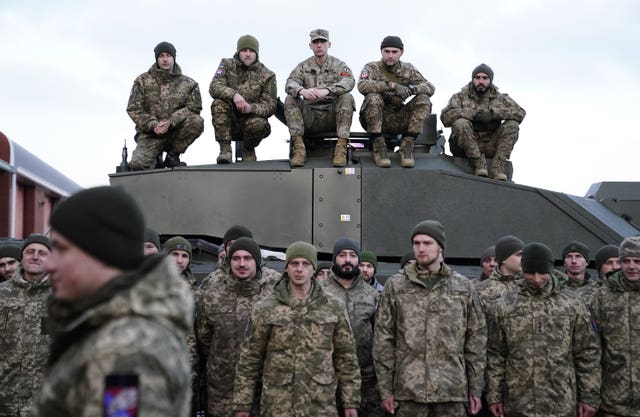 "They want to know that the Government is not weakening in its resolve."
Mr Murrison pushed back against Labour's claims, telling the Commons: "I think (Mr Healey) is being just a little bit unfair, and I'm sure President Zelensky would feel the same way – he certainly did when he came here in February to sign the London Accord.
"It is pretty clear that the UK is leading in Europe… the Ukraine recovery conference in June proves that, it's a process the UK has been instrumental in.
"We led the International Fund for Ukraine in instigating it and £520 million, of which £300 million has been expended, is really quite an achievement."
Mr Murrison said the UK is helping to pursue war crimes linked to the conflict, adding: "In every dimension, in this country we're taking a lead.
"I appreciate (Mr Healey's) need to attack the Government in this and other areas, but I think the specifics of this, in our leadership in Europe, in Ukraine, the UK is more than playing its part – we are leaders and I'm really proud of that, and so should the British people be."
Mr Murrison, added: "The UK will stand with Ukraine for as long as it takes and will spend another £2.3 billion on military support to Ukraine this year."
Labour MP Gareth Thomas (Harrow West) asked "whether the MoD is now walking back from the Prime Minister's commitment to offer further long-range missiles", and asked for clarity on how many more long-range missiles will be provided to Ukraine.
Mr Murrison did not explicitly affirm or deny the suggestion, but said munitions support was discussed in meetings with allied nations, and he noted the role of a British-led international fund to provide weapons.
He said: "Our provision of munitions, in concert with others, is driven by the Ukrainian ask and our ability to deliver it.
"That is something that was discussed at Ramstein and will be discussed obviously further at Vilnius and subject to the second round of the international fund call."
He added: "I think it's important to understand that a lot of that will be driven by the executive panel of the international fund, and obviously it will listen very closely to what President Zelensky and his advisers feels they need."