Strikes by nurses could continue for months after an angry reaction to legal action taken by the government over a planned strike over the Bank Holiday weekend.
Heath Secretary Steve Barclay won a case in the High Court that part of the 48-hour strike was unlawful.
The Royal College of Nursing (RCN) immediately called off a strike due to be held on May 2 in the bitter row over pay, but angrily attacked the government for taking nurses to court rather than trying to resolve the row.
"Our nurses have carried out very safe, legal action to date, and Steve Barclay can continue to threaten them with their registration.
"He can continue, if he wishes, to drag them through court proceedings. But what he needs to do is get into a negotiating room and start to talk to the nurses of England, sort out this dispute and allow them to get back to their work."
Downing Street said it was "regrettable" that the Government had to take legal action.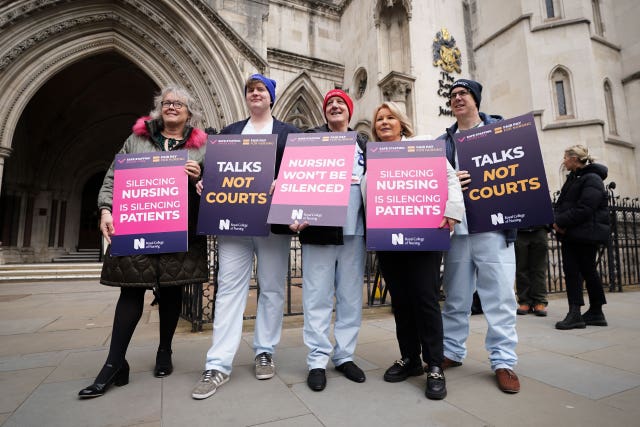 "The Government never wanted to take this to court. We did indeed try every possible way to avoid a court case.
"The NHS presented the RCN with clear legal evidence that their planned strike for May 2 was unlawful. We asked them to call it off. The RCN refused. That's why the NHS asked the Government to intervene and seek the view of the court.
"Late yesterday, Steve Barclay wrote to the RCN, to Pat Cullen again, and asked them to call off their final day of the strike given we were confident that it was not legal, they refused again.
She said: "They (the government) have won their legal battle today. But what this has led to is they have lost nursing and they've lost the public.
"They've taken the most trusted profession through the courts, by the least trusted people.
"And what a day for nursing. What a day for patients. And what an indictment on this government to do this to the very people that have held this NHS together, not just through the pandemic, but an NHS that has been run into the ground and in crisis, caused by this government."
She criticised the Health Secretary and the Government for clapping for nurses only to leave the NHS to "crumble".
"It's absolutely shocking in my mind, that any Government would drag their nurses through the Royal Courts of Justice, what a way to treat the nursing staff of England. Nursing staff that have held this NHS together while it has been left to crumble by this Government.
"Now he decides that the way to pay those nurses back is to use patients' money, public money, to drag them through the courts, and that is not the way to run this country."
She added: "I think if you were to stop any member of public up and down England today, they would say he has got this so, so wrong, to actually push the full weight of the court system on nurses to try and silence them.
"What he should be doing today is getting into a negotiating room with me, not a courtroom, and saying 'what can we do to sort out the nursing crisis, fill the tens of thousands of vacant posts, so that patients get a decent service in this country, and that our nursing staff can be retained in the NHS?'."
She told the PA news agency: "This Government can keep on challenging as much as they want.
"Nurses will not do anything illegally. We've had a very, very safe six months of strike action, in fact during those six months our nurses only took six days of strike action."
She said it was with a "heavy heart" that strike action could continue in the lead-up to Christmas, adding: "If Steve Barclay continues to stay in the tunnel that he's in, we will end up with strike action for the next six months because nursing staff are not going to step back now."