Strike action planned by the Royal College of Nursing (RCN) for May 2 has been called off after a High Court judge ruled it would be unlawful.
Health Secretary Steve Barclay secured the court's interim declaration after "regretfully" bringing legal action against part of the trade union's proposed walkout in a long-running dispute over pay.
Lawyers representing RCN did not attended a hearing in London on Thursday to face the Government's accusations that strike action beyond the end of May 1 had "no democratic legitimacy".
Mr Barclay previously said NHS Employers – which represents National Health Service employers in England – had contacted him asking him to check the legality of the action because the organisation believed the strike mandate ran out on May 1.
In his ruling, Mr Justice Linden concluded that a six-month period in which industrial action could be taken following the RCN balloting members last year expired at midnight on Monday.
Speaking outside the Royal Courts of Justice after the judgment, RCN general secretary Pat Cullen said the union would no longer strike on May 2, but would continue with the planned action on April 30 and May 1.
"Where do we go from here? Well, of course, our nursing staff will not do anything that isn't legal," she said.
Ms Cullen urged Mr Barclay to "get into a negotiating room" and criticised him and the Government for clapping for nurses only to leave the NHS to "crumble".
"This is no way to treat the nursing staff that he (Barclay) has stood personally and clapped for on steps, and now you slap the court order on them. Shocking," she said.
"They (the Government) have won their legal battle today. But what this has led to is they have lost nursing and they've lost the public.
"They've taken the most trusted profession through the courts, by the least trusted people.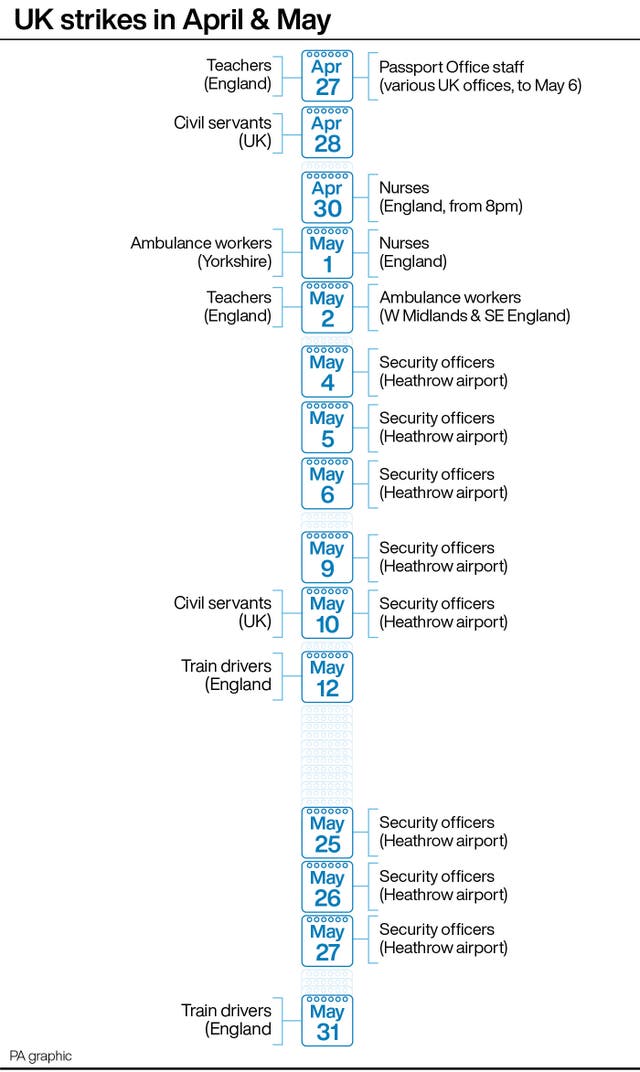 Mr Barclay welcomed the court's decision, saying: "I firmly support the right to take industrial action within the law – but the Government could not stand by and let plainly unlawful strike action go ahead.
"Both the NHS and my team tried to resolve this without resorting to legal action, but unfortunately, following a request from NHS Employers, we took this step with regret to protect nurses by ensuring they are not asked to take part in an unlawful strike."
He added that the Government wanted to "continue working constructively" with the RCN and called on the union to "do the right thing by patients and agree derogations for their strike action on May 30 and April 1".
Mr Justice Linden said in his ruling that Thursday's hearing was over an interpretation of the law, with it not being the court's role to enter into the competing positions of the pay dispute.
He said he took into account "the interests of the public" including those who may require treatment on Tuesday.
Earlier, the Government's barrister Andrew Burns KC accused the RCN of being "incompetent when looking at the calendar" and warned that nurses were "at risk of regulatory sanction if they take unlawful strike action".
In written submissions, he said the Health Secretary sought an "urgent" declaration that the RCN's "threatened inducement of its members to breach their contracts of employment by participating in industrial action on May 2 2023 is unlawful".
"An interim declaration is appropriate to prevent a day of unlawful strike action which has no democratic legitimacy beyond 23:59:59 on May 1 2023," the barrister said.
Ms Cullen has previously urged ministers to resume negotiations after RCN members rejected a 5% pay offer.
Thursday's ruling comes after the Royal College of Midwives (RCM) said members had voted to accept the latest NHS pay offer.
The offer covers two pay years – an additional one-off amount for 2022/23 and a 5% wage rise for 2023/24.