Police will be given the power to stop "slow walking" by climate protesters under proposals unveiled by the Government.
New legislation introduced on Thursday would give officers the ability to intervene and stop the tactic, which is widely used by Just Stop Oil.
It is used to block roads in a way that does not involve sitting in the middle of the street to stop traffic, which is illegal.
Last year the group changed its approach and deployed the tactic widely after several activists were arrested for blocking roads.
The new legislation will support the Bill by clearly setting out what is meant by "serious disruption to the life of the community".
The Government says this will give police the clarity they have asked for on when they can use existing powers to break up the "selfish, guerrilla" slow-marching tactics used to halt traffic across the UK.
The Public Order Bill creates a new criminal offence of interfering with key national infrastructure such as roads, airports and railways, with perpetrators facing 12 months behind bars.
People who lock themselves on to others, objects or buildings will face up to six months in jail or an unlimited fine.
Police will also be allowed to stop and search protesters they believe are setting out to cause "serious disruption".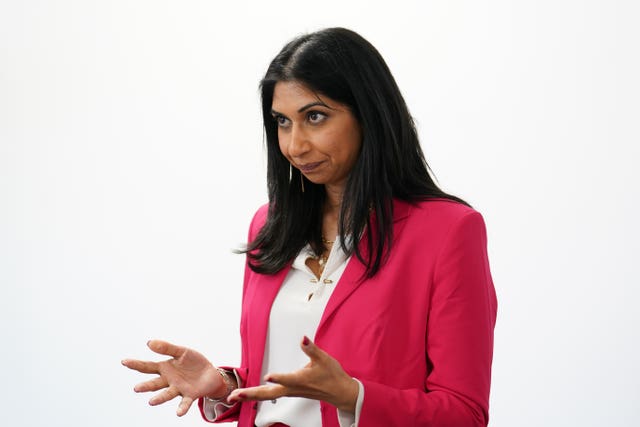 "This is why we are bringing forward this new law to clearly define serious disruption as requested by police chiefs.
"Not only will the Public Order Bill, passed yesterday by Parliament, introduce new criminal offences for causing serious disruption, this new legislation permits the police to clear the roads of slow-marching protesters who are hell-bent on causing chaos across the UK."
Crime and policing minister Chris Philp added: "The British public do not deserve to have their daily lives disrupted by the self-indulgent, criminal behaviour we have seen in some recent protests.
"With the Public Order Bill passing in Parliament yesterday and these new measures, we are protecting the hard-working majority's right to go about their day free from disruption."
BJ Harrington, the National Police Chiefs' Council lead for public order and public safety, said: "Policing is not anti-protest, but there is a difference between protest and criminal activism, and we are committed to responding quickly and effectively to activists who deliberately disrupt people's lives through dangerous, reckless and criminal acts.
"It is the responsibility of Parliament to make the law and our job to enforce it.
"We have advised and provide professional advice to the Home Office to inform decisions about public order legislation.
"This has been based on ensuring that we can discharge our responsibilities appropriately, while balancing the rights of the public who are going about their daily business lawfully and the rights of those protesting."