Teachers in England were back on picket lines on Thursday as they staged a fresh strike in a long-running dispute over pay.
Tens of thousands of members of the National Education Union (NEU) walked out of schools and sixth form colleges across England, with another strike planned on Tuesday.
The union said it believed the majority of schools are expected to either restrict access to pupils or fully close as a result of the strikes.
Many secondary schools in England are expected to prioritise Year 11 and Year 13 students during the strikes as GCSE and A-level exams are weeks away.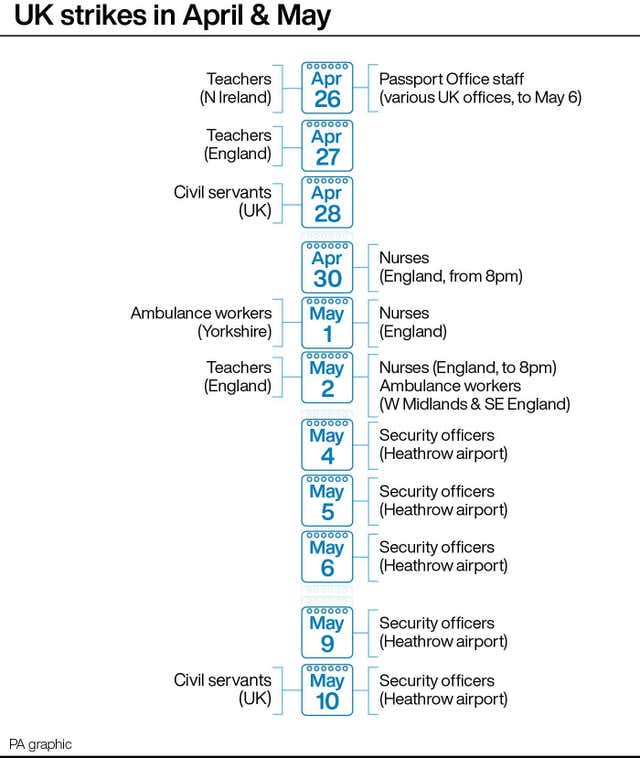 Kevin Courtney, joint general secretary of the NEU, said: "There's lots of places where arrangements are being made.
"In some places it's members teaching, in others it is teachers setting work for the children on those days."
He told the PA news agency: "Obviously, there is still disruption and we've fully acknowledged that and regret it, but we've taken those steps on the dispensations to try and assuage that concern as much as possible."
Picket lines were mounted outside schools across England and a number of rallies are due to be held.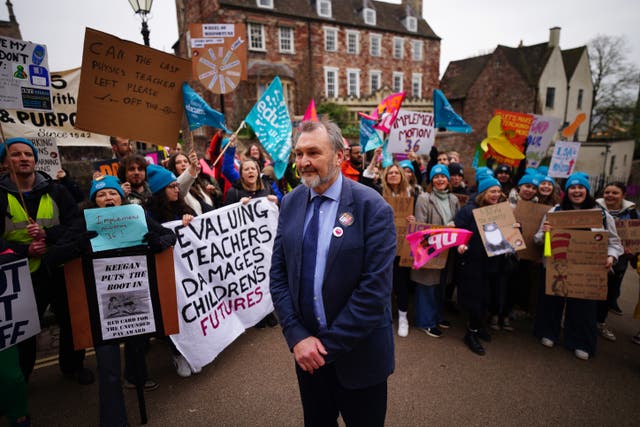 The Government offered teachers a £1,000 one-off payment for the current school year (2022/23) and an average 4.5% pay rise for staff next year following intensive talks with the education unions.
Four education unions, the NEU, the NASUWT teaching union, the National Association of Head Teachers (NAHT) and the Association of School and College Leaders (ASCL), have rejected the pay offer.
Meanwhile, the Government is taking legal action on Thursday against the Royal College of Nursing over its planned 48-hour strike over the Bank Holiday weekend.
RCN members working in the NHS in England at workplaces with a strike mandate are preparing to take 48-hour industrial action from 8pm or the start of the night shift on April 30.
TUC general secretary Paul Nowak is writing to Mr Barclay to urge him to meets with unions representing junior doctors, stressing his concern about the lack of engagement and meaningful negotiation which he said is prolonging the dispute.
He said it was time for a "reset" on the public sector pay disputes.
"Ministers should stop wasting time and stonewalling negotiations.
"All of our public sector workers, including our doctors, our teachers and civil servants, deserve a fair pay deal.
"If the Government does not reach a fair settlement on pay, the recruitment and retention crisis crippling frontline services will only get worse."
Nurses rejected a deal over anger at how the Government has handled negotiations, Labour leader Sir Keir Starmer has said.
Speaking to ITV's Good Morning Britain, Sir Keir said: "What's happened in the nurses' case is really instructive, because actually the union recommended the deal and the nurses themselves rejected it.
"That tells you just how angry the nurses are, because that's quite unusual."