The Prince and Princess of Wales have met people who took part in the rescue operation after the Aberfan disaster.
The tragedy in 1966 was one of the UK's worst disasters, and left 116 children and 28 adults dead.
It was caused by a spoil-heap landslide following heavy rain, which engulfed Pantglas Primary School and surrounding houses on the morning of October 21.
William and Kate were visiting the Bannau Brycheiniog National Park to meet the Central Beacons Mountain Rescue Team when they were introduced to retired members Bob Thomas, 75, and Nick Richards, 79.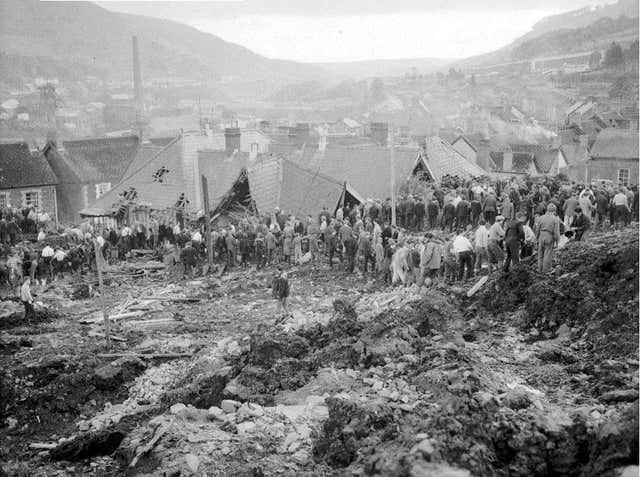 Mr Thomas, who was then a 19-year-old bank clerk, showed William photos and explained how hard it was to clear the debris.
"We were trying to shift what seemed like dry concrete," Mr Thomas said.
"It was really heavy and it must have come down like a train, because it has taken out a row of houses and the school.
"There was a spring that tipped over, that no-one knew was there. We'd had four weeks of rain and it all just washed out.
"We were given a shovel and a pick to get the stuff away, but we just couldn't move it."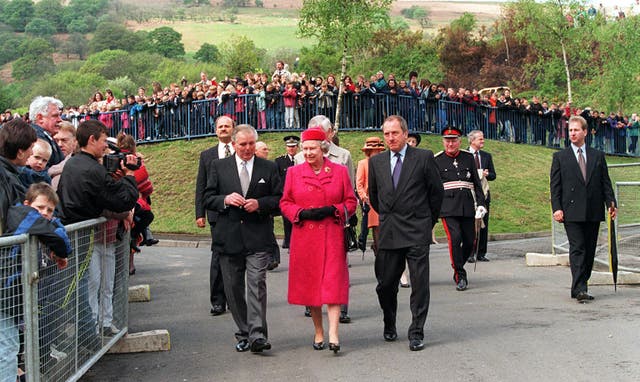 "We ended up at about 2.30am and the miners had corrugated metal which they put into a trough, and they were using shovels to fill tipper lorries every 15 minutes with the slurry," he told William and Kate.
"The miners did 16 hours straight on there. I managed four and I was 19 and fit.
"The last one out was about at 10.45am, and after that it was recovery – it wasn't a rescue any more.
"Fortunately we still had the pits then, so if we didn't have a gang of men who knew what they were doing it would have been worse.
"There were some horrible stories.
"My wife was a teacher and she told me about this chap who went to work at 8.30am, and by 9.30am he'd lost his wife, his two children, his house and all he had left was his sports jacket, trousers and Ford Anglia. That was it.
"It's just unimaginable."
After listening to Mr Thomas, William told them: "It's a real pleasure to meet you both. My grandmother told me many times about Aberfan."
Mr Thomas replied: "Your family did the right thing in not coming immediately, because it would have been a distraction."
The Duke of Edinburgh, Lord Snowdon and the then prime minister Harold Wilson visited the scene the following day. The Queen waited eight days before going to the village near Merthyr Tydfil.
She visited the mining village several times and formed a strong bond with the community.
Speaking after meeting William and Kate, Mr Thomas said: "It was very, very nice they have taken time."
Mr Richards added: "I am really elated. I can't wait to tell the family because it was a secret."