The King was presented with a new royal horse and a commemorative sword at Windsor Castle on Friday in a ceremony to mark his honorary appointment as commissioner-in-chief of the Royal Canadian Mounted Police (RCMP).
Charles met with the High Commissioner for Canada in the United Kingdom Ralph Goodale for the ceremony, which coincides with both the 150th anniversary of Canada's national police force and the royal coronation on May 6.
They were greeted on arrival with a royal salute from four mounted members of the RCMP who have travelled to the UK to participate in the coronation procession.
RCMP Commissioner Mike Duheme presented the King with the new horse, a seven-year-old black mare called Noble, who will also take part in the coronation procession.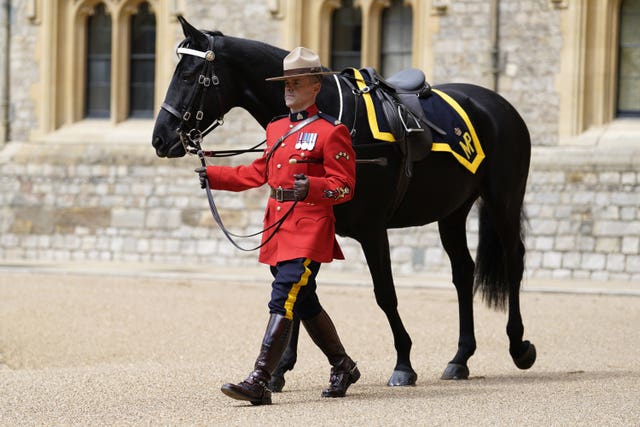 Noble is a former member of The Musical Ride, a special unit of the RCMP whose officers, and their horses, tour Canada performing intricate formations and drills set to music.
The King and the Queen Consort visited the Musical Ride in May 2022 during the Royal Tour of Canada for Queen Elizabeth II's Platinum Jubilee.
Superintendent Kevin Fahey, the officer in charge of the Musical Ride, described Noble as "incredibly bold" and "very calm".
He explained that Noble was chosen both for her demeanour and her stature. Referring to Charles' visit to the RCMP stables last year, he said: "We pointed out the two horses to His Majesty, and he said: 'Oh, they're kind of tall'.
"We took that as a note to say perhaps we should be looking for a horse not quite as tall. And so we set about and landed finally on Noble."
As part of the ceremony, Commissioner Duheme also presented the King with a commemorative RCMP Officer's sword.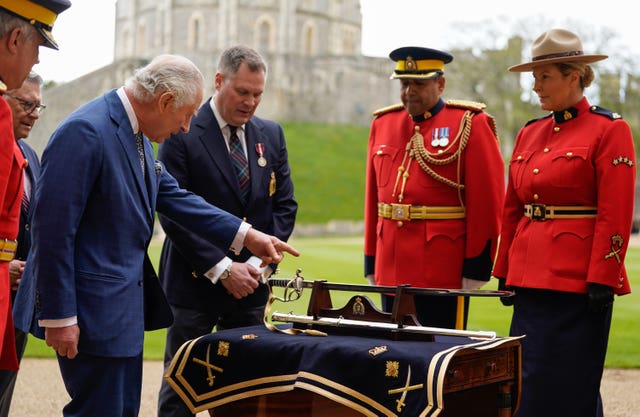 This signifies the RCMP's 150th anniversary and the year of the coronation.
Charles follows in the footsteps of his mother, who was appointed Commissioner-in-Chief of the RCMP to mark the Diamond Jubilee in 2012, becoming the first person to hold the title.
During the coronation procession, five RCMP officers – nicknamed "mounties" – will ride horses from the Royal Mews gifted by the RCMP to the royal family. Noble will be among them.
The police force's relationship with the royal family dates back to 1897, when a contingent of its officers paraded in Queen Victoria's Diamond Jubilee procession. They have taken part in every coronation since the crowning of King George V in 1911.
Speaking about taking part in the coronation ceremony, Superintendent Fahy said: "I'm incredibly proud to represent not only our organisation but to represent all of Canada."
High Commissioner Goodale said Friday's ceremony represented "the very strong links and connections between the royal family and Canada".
Speaking of the significance of Canadian involvement in the coronation ceremony, he added that the occasion "underlines the significance and the value of the constitutional monarchy".