Votes by health workers on the Government's offer aimed at resolving the long-running pay dispute returned different results on Friday ahead of a fresh strike by nurses.
Members of the GMB accepted the offer by 56% but Unite announced its members voted against by 52%.
News of the GMB result, alongside previous votes in favour by other unions including Unison, was welcomed by ministers following months of deadlock in the bitter row.
The ballot results were announced ahead of a walkout this weekend by members of the Royal College of Nursing who have rejected the offer.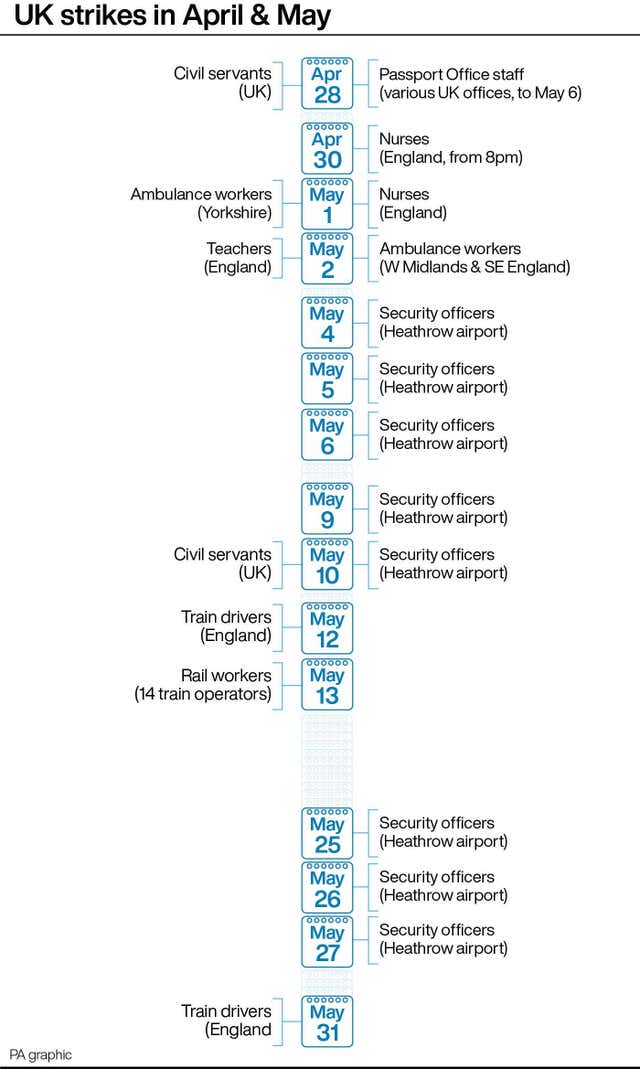 Tens of thousands of the GMB's health workers were balloted on the offer of a 5% pay rise this year and a cash payment for last year.
The GMB said it will now vote to accept the offer at a meeting of the NHS Staff Council next week which would pave the way for the pay rise to be implemented by the Government to all health workers covered by the agreement.
GMB national officer Rachel Harrison said: "This new pay offer would not have happened without the strike action taken by ambulance and other GMB health workers.
"GMB members have voted to accept the offer, which means GMB union will vote in favour of the pay offer at the NHS joint staff council meeting next week.
"Our members recognise that progress has been made – from the Government originally offering nothing, health workers will be thousands of pounds better off.
"But so much more needs to be done for workers if we are all to get the NHS we need.
"GMB now needs action for our ambulance members – starting by addressing their retirement and unsocial hours enhancements concerns.
"Today is just one step in the battle to restore NHS workers' decade of lost earnings.
Health and Social Care Secretary Steve Barclay said: "Today's decision by members of GMB to accept the pay offer, following Unison – who represent the largest share of the NHS workforce – the Royal College of Midwives and the Chartered Society of Physiotherapy, demonstrates it is a fair and reasonable proposal that can bring this dispute to an end.
"I've always said I want a fair resolution that recognises the outstanding job of NHS staff and also protects the government's commitment to halve inflation – and I'm hopeful the NHS Staff Council accepts our offer when they meet next week."
Unite said its ballot result showed high figures of rejection for grades mostly in frontline services with patients.
Seven out of 10 ambulance paramedics rejected the deal. Three quarters of staff at the West Midlands Ambulance Trust voted against the offer. Workers at Guys and St Thomas' opposed the deal by the same figure while Yorkshire Ambulance Trust staff rejected it by two thirds.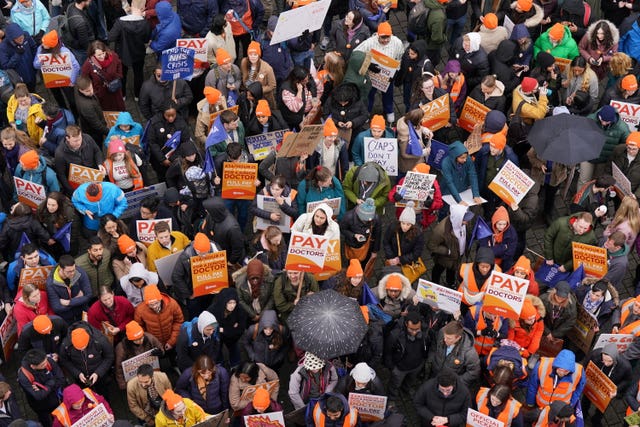 Unite general secretary Sharon Graham said: "Unite was clear from the start it was very unlikely this offer would be accepted.
"It is quite frankly a joke that NHS workers are being forced to fight for a decent pay rise after years of pay freezes and all their sacrifices during the pandemic.
"The Government should be delivering generous rewards for that instead of a parade of insults, bullying and lies about our industrial action."
In other developments:
– More than 130,000 members of the Public and Commercial Services union went on strike on Friday in the long-running row over jobs, pay and conditions in the civil service.
– Midwives and maternity support workers across Wales began voting on Friday on a pay offer from the Welsh Government, which is being recommended for acceptance by the Royal College of Midwives.
– A strike by traffic wardens in Westminster including the day of the coronation is to go ahead after a new pay offer was rejected.
Members of the GMB union employed by the council's contractor NSL will walk out on May 2, 4 and 6 and take other forms of industrial action for a week from May 1.
– The National Education Union gave notice to the Government that it will be re-balloting its members for further strike action.
The ballot will open on Monday May 15 and close on Friday July 28.
Joint general secretary Dr Mary Bousted said: "This action should be entirely unnecessary. Despite both the governments in Wales and Scotland reaching a settlement, Gillian Keegan (Education Secretary) has wilfully washed her hands of anything to do with the dispute for a fully funded pay rise for teachers in England."
– Schools in England could face co-ordinated strike action by teachers and headteachers in the autumn.
Four education unions, which represent school leaders and teachers, intend to co-ordinate any industrial action in a long-running dispute over pay.