Schools should remove Ofsted banners from their railings to put the inspectorate "back in its box," a school leaders' union chief will urge.
Simon Kidwell, president elect of the National Association of Head Teachers (NAHT), will say that the current inspection framework "isn't fit for purpose" and is "doing more harm than good".
In a speech to hundreds of school leaders at the union's annual conference, Mr Kidwell will say the current model "causes unacceptable collateral damage" to mental and physical health.
Pressure has been mounting on the schools watchdog in England to introduce urgent reforms to the inspection process.
It comes after the death of Ruth Perry, headteacher at Caversham Primary School in Reading, Berkshire, who killed herself in January while awaiting an Ofsted report which downgraded her school from the highest rating to the lowest possible.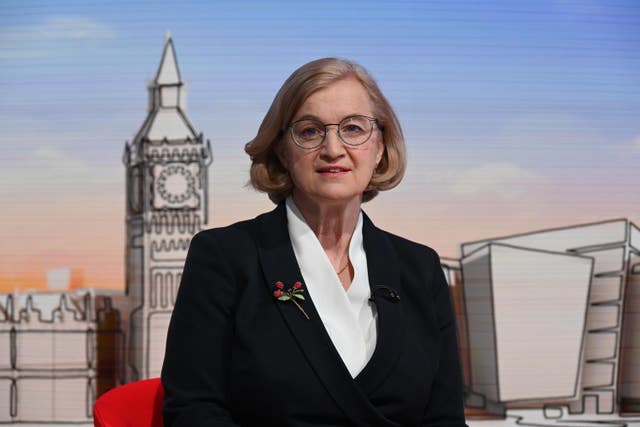 Mr Kidwell, who is principal of Hartford Manor Primary School and Nursery in Cheshire, will say to school leaders: "I know we will all have our own stories to tell about how the punitive accountability system has affected us personally.
"My own physical health has been impacted by the job – 16 months ago I was rushed into hospital and for three days was signed off work because of physical complications that doctors thought was directly caused by the stresses and pressures of work.
"Ruth (Perry)'s death has sadly made me question if I have enough in the tank to lead my school through another Ofsted cycle."
Addressing 400 school leader delegates at the union's annual conference, Mr Kidwell will say: "The reality for many is that the current approach to inspection compounds inequality between schools.
"The current model is a workload creation vehicle for subject leaders, and it causes unacceptable collateral damage to school leaders' mental and physical health."
He will add: "When we return to school on Tuesday, let's take some collective actions to put Ofsted back in its box.
"Let's remove any Ofsted banners from our railings, erase Ofsted logos from our school stationery, delete Ofsted quotes from our websites, and when Ofsted reports are published tell our communities that Ofsted is a snapshot of school performance judged against a framework that urgently needs a serious reform."
Ofsted chief Amanda Spielman has said she has no "reason to doubt" the inspection before the death of Ms Perry.
Speaking on the BBC's Laura Kuenssberg On Sunday programme, Ms Spielman acknowledged that a culture of fear exists around inspections but she said the majority of schools have a "positive and affirming experience".
An inspection report, published on Ofsted's website in March, found Ms Perry's school to be "good" in every category apart from leadership and management, where it was judged to be "inadequate".
Professor Julia Waters, Ms Perry's sister – who previously said the grading was "sensationalist" and "deeply harmful", is due to speak at the NAHT union's annual conference on Saturday.
Ms Spielman has said Ofsted's one-word assessments, which have been criticised for being too simplistic, are easier for parents to understand.
She said on Sunday: "It's not for us to say we're going to fundamentally change the grading system, that would have to be a bigger government decision."
Last week, Education Secretary Gillian Keegan said: "Parents rightly want to know how their child's school is doing and I fully support our approach to providing a clear one-word rating to inform their decisions."
The NAHT will ballot its members in England over strike action after members rejected the Government's pay offer.
Delegates at the conference in Telford will vote on whether to endorse the decision by the NAHT's executive committee to re-ballot members.
More than three-quarters (78%) of NAHT members who voted said they would be prepared to vote for action up to and including strikes.
Mr Kidwell, who will become the NAHT's official president in September, will say: "A demonstrable signal that we won't stand by and let the long-term erosion in terms and conditions and the invisible hand of toxic accountability and underfunding continue to suffocate our profession."