A fundraiser famed for wearing bright blue swimming trunks said the support he has received "means the world" as he approaches the final day of his last challenge.
Everton fan Michael Cullen, better known as Speedo Mick, is to complete his adventure on Saturday – a 1,000-mile walk from John O'Groats, Scotland to Land's End, Cornwall, over a four-month period.
As part of the challenge, he has completed myriad tasks while donning his famous trunks, to achieve his £200,000 GoFundMe goal for The SpeedoMick Foundation, which provides grants to grassroots charities that support mental health, disadvantaged young people and homelessness.
Speaking of the support he has received over the last four months, Mr Cullen, 58, told the PA news agency: "Honestly, I couldn't put it into words, to be honest. It's been absolutely amazing.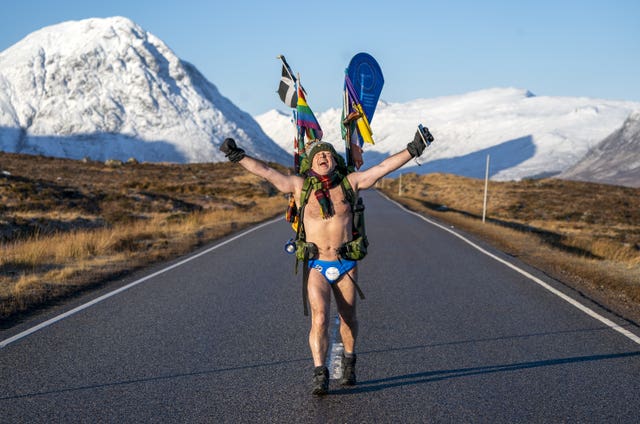 "We're so close to the £200,000 goal for this one … if we do get to £200,000 we would have raised £1 million over the last seven years."
As he arrived in Portreath, Cornwall through rain and wind on Thursday, Mr Cullen said the last four months have been "horrific and painful", but said the public's donations have been "amazing".
"I might have done the stomping, I might have got the blisters and felt the aches and pains, but everybody out there who has supported me and put their hands in their pockets – even now in a cost-of-living crisis – people are digging deep, and that's amazing," he said.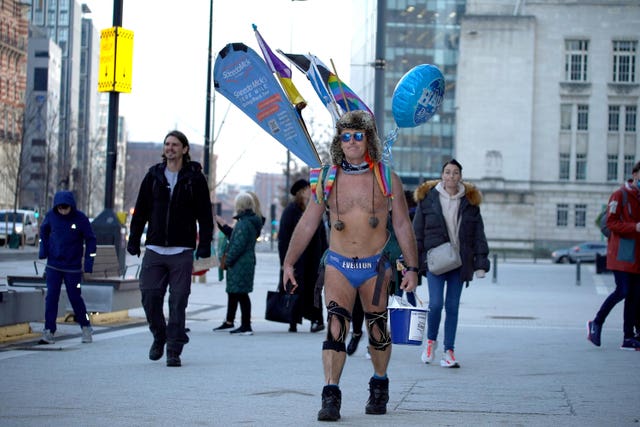 "I've done the three peaks… Ben Nevis, Scafell Pike and (Mount) Snowden all in the winter — minus 3C at the bottom of Ben Nevis and minus 18C at the top.
Mr Cullen's friends and family urged him to wear appropriate attire before scaling the three peaks, and while in Scotland he decided to don a sporran and kilt to ascend Ben Nevis, though this was quickly removed by the time we reached the bottom.
"When I got to the bottom of Ben Nevis I thought 'my name's not Kilty Mick, I'm Speedo Mick' so I took all the stuff back off," he said.
While scaling Scafell Pike, he was joined by a group of commandos in the British army who showed their support for the fundraiser.
"Funnily enough, I saw some commandos at Scafell Pike and they presented me with a flag because one of them had seen what I had done. Then they walked up Scafell Pike with me," he said.
"When they got to the top, they got into their shorts."
"I think I'm going to give my wife a cuddle, that's the first thing I'm going to do," he said.
"She's the one I speak to when I'm down. She's the one who changes my perspective when I'm not feeling good about myself."
He also said he cannot wait to "see my own bed", and to being more involved in projects for the SpeedoMick Foundation.
"I haven't seen my family in four months and my beautiful dog. I'm freezing cold, but I'm excited to see all of my family," he said.
"I just want to see my own bed … just want to have some beans on toast."
"I'm really looking forward to getting stuck into the SpeedoMick Foundation project too."
Mr Cullen's challenge was sparked by his recovery from alcohol and substance addiction, with this year marking his 21st year of recovery.
"That's the catalyst of me doing what I'm doing trying to raise awareness for mental health and addiction," he explained.
"There is hope out there. Hope lives in the darkest places and I didn't know that until I got into recovery.
"I'm doing my best to give back because I wouldn't be here if I never received the support that I got 21 years ago."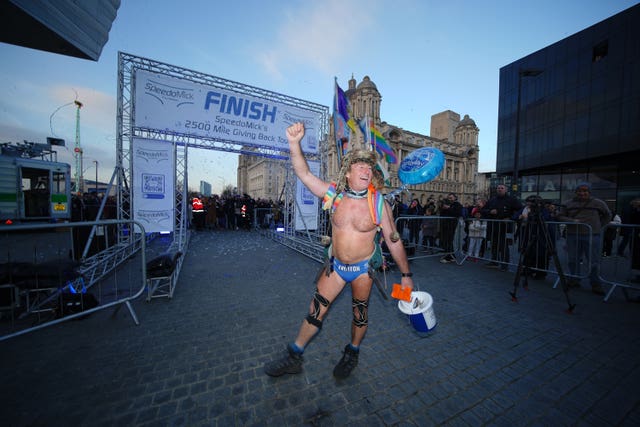 "If your dreams don't scare you, then they're not big enough as far as I'm concerned. That's me getting the lust for life back," he said.
"I'm raising a few smiles, I'm raising some spirits and raising a few quid for charity, and putting some footprints on this world before I kick the bucket.
"The message I'd really like to send to anybody who is suffering from mental health or addiction is simply, please, reach out."
The £200,000 raised from this challenge contributes to the almost £1 million he has raised for his foundation across his various feats, which include a 2,000-mile, five-month trek across the UK and Ireland and swimming across the English Channel.
More information about Mr Cullen's final fundraiser can be found here: http://www.gofundme.com/the-final-stomp