The Government has agreed to include NHS doctors without UK passports on the last flights out of Sudan, amid criticism over the scope of its eligibility criteria for evacuation.
Ministers answered calls to widen the remit, which had been limited to British nationals and their immediate family, after a significant decline in the number of UK citizens coming forward.
The decision was announced with hours to go until the final flight takes off from the Wadi Saeedna airfield near Khartoum at 6pm UK time.
The Foreign, Common and Development Office said shortly after 9pm UK time that the final flight was yet to leave the airfield near Khartoum, despite it being previously scheduled for 6pm.
The Government-mandated deadline to reach the site in order to be processed for the last flight passed at 12pm local time, after it confirmed it was winding down its rescue operation amid a faltering ceasefire.
Fighting has broken out again in Khartoum despite the extension of an armistice between the country's two warring generals having been brokered in the early hours of Friday.
The Government has said it will continue to advocate for an end to the conflict alongside its international allies.
A spokesman said: "We have made the decision to extend the evacuation criteria to include eligible non-British nationals in Sudan who are working as clinicians within the NHS and their dependents who have leave to enter the UK.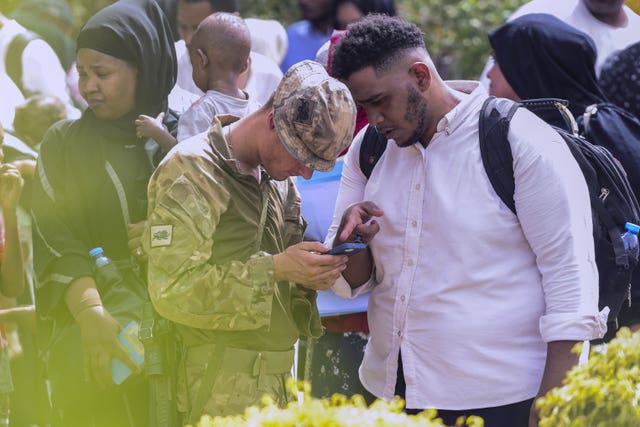 "We continue to work intensively, alongside international partners, to maintain the ceasefire and bring an end to fighting, the single most important thing we can do to ensure the safety of British nationals and others in Sudan."
It comes after concerns were raised that the Government's previous approach to evacuation could see families split up or some members left behind.
Shadow foreign secretary David Lammy had urged the Government not to "turn away" British residents without passports, including NHS doctors trapped in the conflict zone.
Criticism has also been levelled at the pace of the British evacuation and the decision not to offer escorts to people travelling to the airfield.
Deputy Prime Minister Oliver Dowden chaired a Cobra meeting on Saturday to discuss the security situation in Sudan in advance of the final flight taking off.
Mr Dowden denied the Government will effectively "abandon" those who have been unable to make the potentially dangerous journey to the site with its decision to cease flights.
He told the BBC: "We are in touch with and engaging rapidly with the Sudanese Doctors' Association to see what further support we can provide for them."
An update on the number of evacuations is expected later on Saturday.