Rishi Sunak has hit out at "selfish saboteur" protesters who slow traffic as part of their demonstrations after the Government announced it would increase police powers to stop the tactic being used.
It comes as ministers plan to push through measures that will widen the legal definition of serious disruption to enable officers to stop activists slow walking after similar legislation was rejected by the Lords.
Protest groups including Just Stop Oil often use the tactic to block roads in a way that does not involve sitting in the middle of the street to bring traffic to a standstill.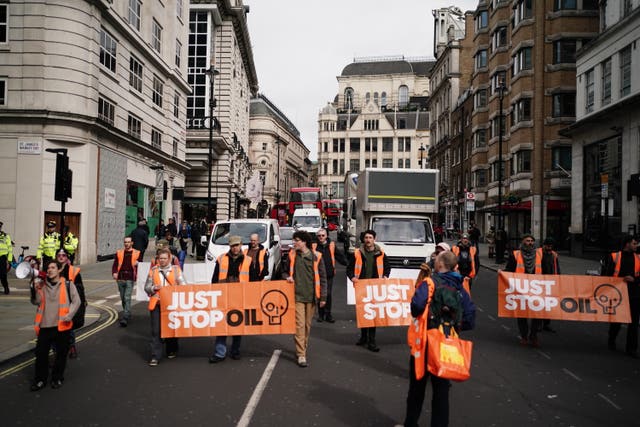 "Sun on Sunday readers deserve a no-nonsense approach. They deserve to see law-abiding citizens protected against a minority trying to make their lives miserable."
The Prime Minister accused Labour of having "sided with the disrupters" by voting against new powers for police and "Sir Softie" Keir Starmer of pandering to "activist supporters".
"We will not allow Sir Softie to stitch this up for his activist supporters. We will always put the majority first," he told the paper.
"The British people have a glorious summer of celebration ahead. Our history, music and sporting prowess will be on display, making us all proud to be British.
"With our new laws we'll crack down on the minority for the majority."
Liberal Democrats home affairs spokesman, Alistair Carmichael, said: "The Conservative Government are once again seeking to expand police powers when they haven't even managed to get the basics of policing right.
"Rishi Sunak cannot continue to hide behind hollow promises to broaden the police's authority while crime victims are waiting hours for police to turn up and the vast majority of burglaries go unsolved."
A Labour spokesperson said: "The police have made clear they have long had the powers they need to stop serious disruption. As usual Rishi Sunak is chasing headlines to distract from his failure to solve serious problems on crime and policing."
A previous amendment to the Government's Public Order Bill which was backed by Suella Braverman sought to crack down on slow marches by clarifying the definition of serious disruption.
But this was rejected in the upper chamber last February with peers voting by 254 to 240 to kill off the legislation.
The Bill suffered eight defeats in total, setting the stage for a showdown between the Lords and the Commons known as parliamentary ping-pong where the proposed law passes between the two houses.
But because the amendment relating to slow marches was only introduced when the Bill reached the Lords, it could not return to the Commons as it was not in the original legislation passed by MPs.
The Home Secretary is now introducing a statutory instrument which is linked to the Bill in order to bring the law on slow walking into force.
The Government had expressed disappointment at the rejection but Labour frontbencher Lord Coaker said the measures risked damaging "freedoms that we all cherish".