An RAF airbase has been transformed into a life-size replica of the coronation procession route to ensure the ceremony goes off without a hitch.
More than 7,000 ceremonial troops brushed up on their military drill at RAF Odiham in Hampshire on Sunday for a rehearsal, bringing together the largest parade of military personnel since the funeral of Winston Churchill.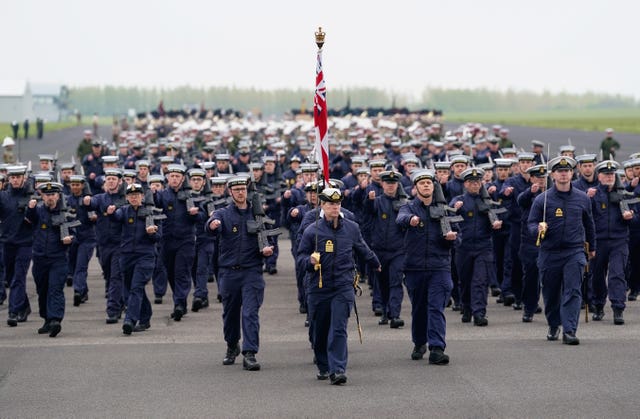 In total, 40 nations were represented, with neat grids of sailors, soldiers, and aviators stretching across the base, including personnel from the 34 Commonwealth countries and six overseas territories.
The head of the navy First Sea Lord Admiral Sir Ben Key said: "Putting it all together for the first time here actually, there's a tinge of excitement.
"The late Queen, like the King today, was an enormous supporter of the armed forces and what we do, and we see this being continued in him.
"We have enormous confidence in King Charles as our Commander in Chief and it's a great opportunity for us to show our allegiance to him and I'm sure that his mother will look down with great pride on the day.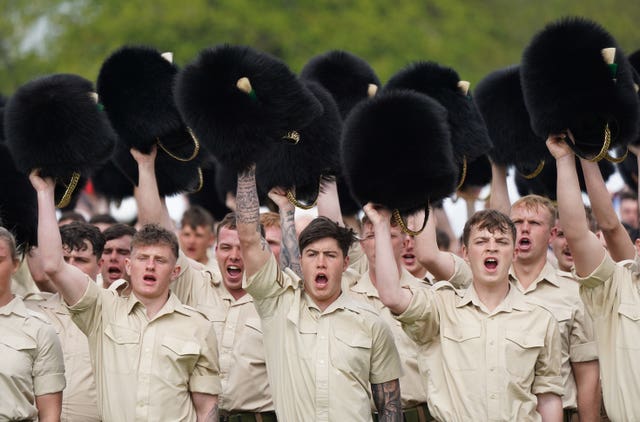 "No doubt I'll then shed my uniform and pull on some incognito clothes to join in because it is a great national celebration."
At the shout of "coronation, procession, by the centre, quick march", the procession got under way, with every troop planting their left foot to the beat of the bass drum.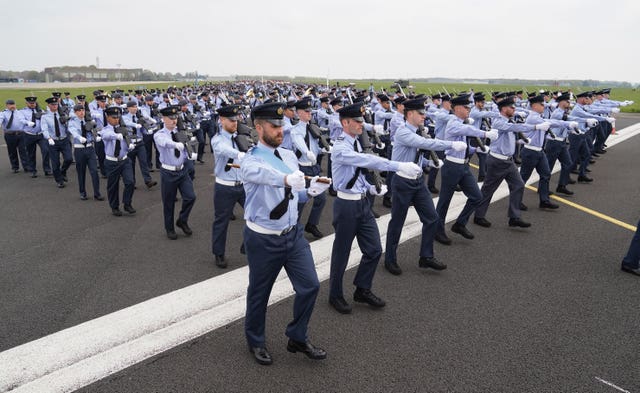 Officials were creative in how they recreated the route, with a pair of rugby posts playing the part of Buckingham Palace, a set of cones replacing Admiralty Arch at the entrance to The Mall, enabling troops to split and reform as they will do on the actual day, while a brown Indcar minibus stood in for the royal Gold State Coach.
Meanwhile, mounted cavalry marched on foot to avoid so-called foreign object debris (FOD) such as horseshoes or manure being left on the runway which could be a hazard to the aircraft taking off from the base.
But one animal was invited to take part in proceedings – an Irish wolfhound called Seamus, who is the Irish Guards' mascot and is the only dog taking part in the parade.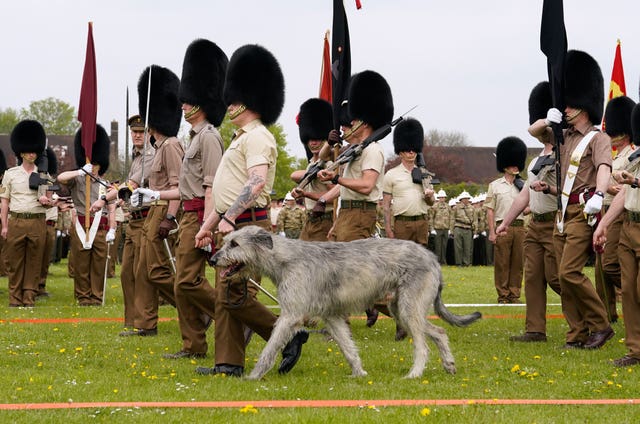 The event was the first and only full daytime rehearsal for the coronation, although there will be a night rehearsal during the week.