A man who has raised £1 million over seven years by trekking across the country wearing only his bright blue swimming trunks says he now believes he has made "amends" after finishing his final challenge, a four-month walk from John O'Groats to Land's End, on Saturday.
Michael Cullen, 58, from Liverpool, better known as Speedo Mick because of his eye-catching attire, set up the SpeedoMick Foundation to provide grants to grassroots charities that support mental health, disadvantaged young people and the homelessness.
His challenge was sparked by his recovery from alcohol and substance addiction, and Mr Cullen said he believes he has "done what I needed to do to make amends and to give back".
"I can't sit still for very long so I'm going to have to put my energy somewhere, so I'm going to put it into the Speedo Mick projects for mental health and stuff like that.
"I think I've just about equalised, haven't I? I think I've done what I needed to do to make amends and to give back, to shine my bit of light onto this world which is on fire at the moment.
He added: "I'm just trying to also challenge myself and fill me boots with life.
"I'm an ordinary fella just trying to do some extraordinary things.
"I believe with all my heart that every single person – not that they'd want to run up Ben Nevis in a pair of knickers at minus 18C – but I believe everybody has got that power within them. If it's just to run a 5k, when they believe they can't do it, it's in there."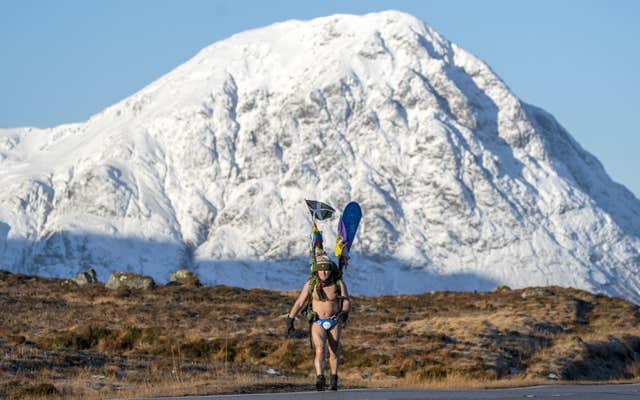 The Everton fan said "loads of people" came out to support him as he approached the finish line in Cornwall, but added he was "running on fumes".
"There was loads of people who'd come to support me, to see me in, and they were all walking with me," he said.
"It's just better we all do it together, it's not about me, it's about us.
"It was just amazing. The feeling was mostly a feeling of relief that it was over, because I really never had anything left honestly. I put everything into that. I'm emotionally, physically and mentally drained.
"I (was) literally running on fumes yesterday, fumes and pasties!"
The fundraiser said he had experienced "about eight days where the sun's shone" adding the cold weather "takes its toll".
While Mr Cullen said his latest walk will certainly be his final challenge of that nature, he said the famous Speedos may continue to make an appearance, adding that Speedo Mick is "just another side of my personality".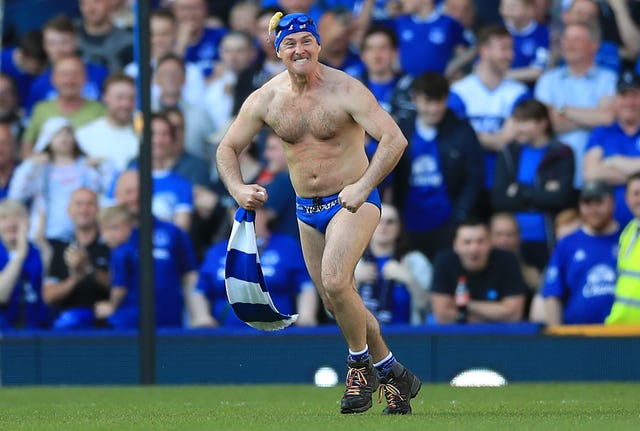 "He's the best part of me as well, and my brother's next to me nodding his head.
"My wife says to me now, when things start getting on top of me and my tolerance starts getting a little bit low, she just looks at me and goes 'what would Speedo Mick do?'"
To find out more about the SpeedoMick Foundation, visit www.thespeedomickfoundation.org.