Kate Forbes insisted her position on highly protected marine areas (HPMAs) has not changed since she pledged to scrap it in the SNP leadership election – but said there could be a way forward if Scottish government works with coastal communities.
Speaking to BBC's Good Morning Scotland on Tuesday, Ms Forbes said it is her job to engage with the Scottish government, which she said has "turned a corner" in its approach to HPMAs.
HPMAs will see strict limits on human activity such as swimming and aquaculture in at least 10% of Scotland's waters.
The proposals have been met with a "huge backlash" from some coastal communities, Ms Forbes said.
During the leadership election, Ms Forbes said she wanted to scrap the proposals.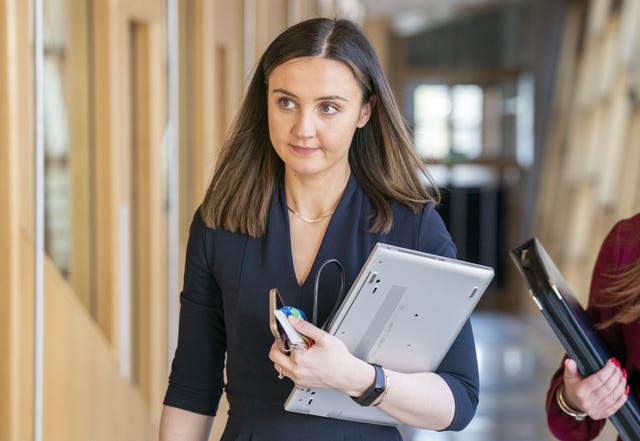 "In the leadership contest, I said I would have scrapped HPMAs completely if elected," she said.
"Obviously, I didn't win.
"My position has always been that I think they are potentially jeopardising coastal communities.
"It's important that the Scottish government works with coastal communities going forward.
"Fishing supports so many livelihoods in these communities, so my concern and the concern that has been expressed by some of these communities is that if we cut off that lifeline to the sea then it could jeopardise population recovery.
"If the Scottish government can continue to express their desire to work hand in glove with communities, particularly fishermen, then I think there is a way forward."
Ms Forbes was asked about claims in The Times over the weekend that her supporters were planning a coup against Humza Yousaf to take over the running of the government.
The former finance secretary said: "It is absolute nonsense, of course, with no basis in anything I have done or said.
"I'm a democrat. I respect Humza Yousaf as our leader. I respect the result. I respect the voters.
"I recognise I have support, but what I would say to my well-intentioned supporters is that we have to get behind the leadership.
"We've got enough challenges in the country and in the party that we must back him, we must support him and I think he's got a hugely difficult job.
"I support Humza Yousaf as our leader and I would call on my supporters to back him as well and give him the time and the space to negate these current issues."
Rachael Hamilton, shadow cabinet secretary for rural economy and tourism for the Scottish Conservatives, told Good Morning Scotland she wants the HPMA plans to be scrapped.
But she was presented with a policy from the Scottish Conservative's manifesto for the 2021 Scottish parliament election appearing to suggest the party would review current protected marine areas in Scotland and expand their extent – as well as piloting HPMAs.
Ms Hamilton insisted nothing had changed on their approach to HPMAs.
"There is nothing in those words that say we want to see a further 10% protected areas on top of the already protected areas," she told the BBC programme.
"We have looked very carefully at responses to the consultation from fishing communities.
"We are nervous about introducing a pilot with the impact of the cost-of-living crisis and spatial squeeze fishermen are facing right now."
Ms Hamilton pointed to pilots across the UK and said the socio-economic impact could be monitored because the "sea goes right round the UK".
MSPs will consider a motion calling for the controversial plans to be scrapped in the Scottish Parliament on Tuesday.