The police and intelligence agencies are mounting a "very complex" security operation around the coronation – with the eyes of the world set to be on the UK.
Security minister Tom Tugendhat said police are "all over it" and not complacent about the scale of the challenge.
New laws to curb protests came into force on Wednesday ahead of Saturday's ceremony but Mr Tugendhat said the celebrations will "showcase our liberty and our democracy".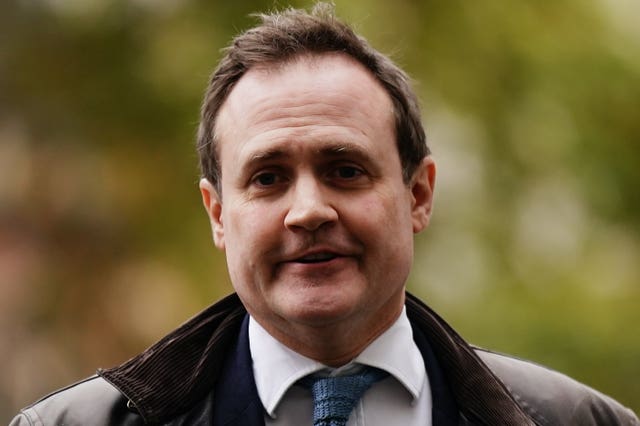 An official letter warning of the new powers was sent to anti-monarchy campaign group Republic, which said its campaign around the coronation will proceed as planned.
Republic boss Graham Smith said it is "very odd" the letter came from the Home Office and described it as "intimidatory".
He told the PA news agency: "We've been liaising closely with the police about the protest for weeks. We've had meetings with them.
"They've said very clearly that they have no problems with our plans. I just can't understand why the Home Office thinks it's appropriate to send a letter like that, which was anonymous in terms of no person's name on it."
Mr Smith added: "It struck us as intimidatory in a way."
He said there are plans for 1,700 people to protest in Trafalgar Square on Saturday.
Mr Tugendhat said the operation around the coronation will show "security can be a liberator in a democracy, not like an authoritarian state where it's a controller".
Asked about the letter sent to Republic, Mr Tugendhat said: "They have the liberty that anybody in the United Kingdom has to protest. What they don't have the liberty to do is to disrupt others.
"And that's where we're drawing and making a difference."
Pressed on whether the new laws will prevent protesters unfurling banners in certain locations or getting on to the route of the parade, Mr Tugendhat told the BBC's Today programme: "I'm not going to go through the details of what you can or can't do for fear of encouraging people to find loopholes in it, for very obvious reason."
He said the presence of foreign leaders at the coronation adds to the complexity of the operation.
"It's perfectly possible that we're dealing with protest groups who have nothing to do with the UK but are seeking to protest against a foreign leader who's visiting or seeking to make a complaint about something that's happening hundreds or thousands of miles away.
"So this is a very complex policing operation, a very complex intelligence operation."
"The police are, to put it mildly, all over it and our intelligence and other security forces are extremely aware of the challenges that we face and ready to deal with them – as the police did quite brilliantly yesterday," he told Times Radio.
He said the coronation is "an opportunity to showcase the United Kingdom to the world".
"So we're very conscious that there are going to be quite literally thousands – possibly hundreds of thousands – of foreign tourists, there are going to be many film crews and journalists from around the world and, of course, we're going to have heads of state and government coming to celebrate with us on Saturday.
"So this is an enormously important moment for the country."
In response to a suggestion the operation will cost taxpayers at least £100 million, the security minister told Sky News: "It's not a figure I recognise."
He said: "It's very difficult to pull that out as a separate figure for the simple reason that we have got an enormous amount of effort going in for a major incident like this in different parts of the country – because there are people getting together in streets, there's people getting together in gatherings across the country because this is a moment of national celebration.
"What I think is worth looking at, though, is how much this is bringing to the country in terms of the number of tourists who are coming, the amount of attention that is coming and, indeed, I hope, the amount of business that will be generated by heads of state and government and other business people coming to the UK at this time to see what we offer."