Religious and community leaders with roles in the King's coronation service have urged Britons to take part in a planned volunteering drive.
The multi-faith group, set to participate in a greeting to the King at the end of the Westminster Abbey service on Saturday, have encouraged communities to get involved in the Big Help Out on Monday May 8.
Organisers say thousands of organisations across the country are set to unite for a day of community volunteering to mark Charles' historic coronation.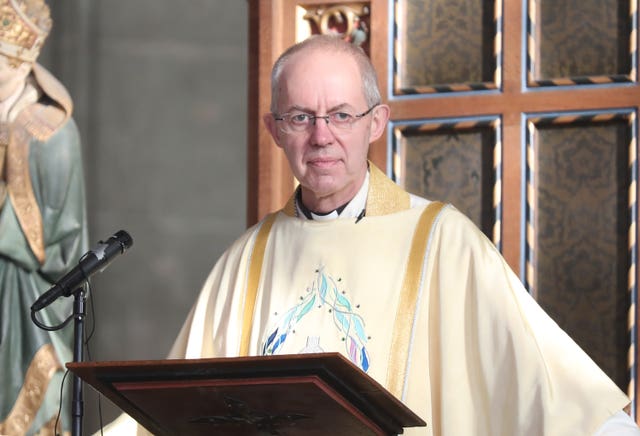 Justin Welby added: "As we celebrate the coronation, I joyfully encourage everyone to help out in all kinds of creative ways.
"I pray we take this opportunity to come together, support those around us and unite our communities.
"Let's build a legacy of love for one another."
The Dean of Westminster, Chief Rabbi Sir Ephraim Mirvis, KBE, The Most Venerable Bogoda Seelawimala, The Rt Hon The Lord Singh of Wimbledon, CBE, Radha Mohan das and Aliya Azam, MBE have also backed the Big Help Out.
Sir Ephraim urged everyone to "take part in this day of national volunteering".
Sir Ephraim was installed in his role in September 2013 during a ceremony attended by Charles when he was prince of Wales, the first time a member of the royal family was present.
He said: "By taking part in The Big Help Out campaign, volunteering our time and energy, we can make a positive impact on our communities, help those in need, and promote social cohesion.
"I urge everyone, regardless of their faith or background, to embrace this opportunity and take part in this day of national volunteering.
"May The Big Help Out be a source of inspiration and hope, and may it strengthen the bonds that unite us as a people."
Mr Seelawimala, head monk of the London Buddhist Vihara and Chief Sangha Nayaka of Great Britain, echoed their calls by urging Buddhists in the UK to "come together to celebrate" the coronation through volunteering.
Lord Singh of Wimbledon CBE, a prominent member of the Sikh community, sitting as a crossbench peer in the House of Lords, said: "Seva or selfless service is central to Sikhism.
"The Big Help Out with its focus on volunteering for the public good on the Coronation bank holiday, rightly pays tribute to King Charles's longstanding commitment to public service."
Radha Mohan das, a Hindu representative based at the Bhaktivedanta Manor Temple, a mock-Tudor Hertfordshire mansion in 78 acres donated by former Beatle George Harrison, called the Big Help Out "a fantastic initiative".
"Let everyone work and serve together for the betterment of our country, its environment and all its communities," he said.
Muslim Aliya Azam MBE is an interfaith co-ordinator at the Al-Khoei Foundation which organises a number of events encouraging people of different religions to interact, the most prominent is the Big Iftar which brings people of all faiths and none together during the Islamic month of Ramadan.
She said: "Volunteering is not just about lending a helping hand, it's about spreading kindness, building connections and spiritual growth.
"Joining the Big Help Out initiative is an opportunity to make a meaningful positive impact on the lives of others.
"Let's come together for the coronation weekend and show that even the smallest acts of kindness can make a big difference."
It comes as, for the first time, representatives from the nation's faith communities are set to play an active role in the coronation of a monarch.
At the end of the coronation, the King will receive a greeting in unison from leaders and representatives from Jewish, Hindu, Sikh, Muslim and Buddhist communities.
They will tell the newly crowned King: "Your Majesty, as neighbours in faith, we acknowledge the value of public service.
"We unite with people of all faiths and beliefs in thanksgiving, and in service with you for the common good."
Charles will acknowledges the greeting.