Sir Keir Starmer has been accused of being "shifty" over questions about Sue Gray and has been urged to "fess up" about when contact with her about a top Labour job was first made.
The Opposition leader has repeatedly refused to disclose the timeline of the talks held with the partygate investigator about her becoming his chief of staff.
Levelling Up Secretary Michael Gove said Sir Keir was "avoiding the question" when it came to divulging when the job offer was made to the former senior civil servant.
The comments came after Sky News reported that the Labour leader initiated contact with Ms Gray about the position in October, at least four months before her appointment was announced.
Speaking to ITV's Peston programme, he said: "The person who can clear this all up is Keir Starmer.
"All Keir Starmer needs to do is co-operate, to say what the contacts were that he initiated.
"And I think it is unchivalrous and wrong of Keir Starmer not to fess up.
"He should be straight, he shouldn't be sort of 'taking the Fifth (Amendment)' and avoiding the question.
"It only reinforces the impression that people have that he is shifty and that he can't be straight with us."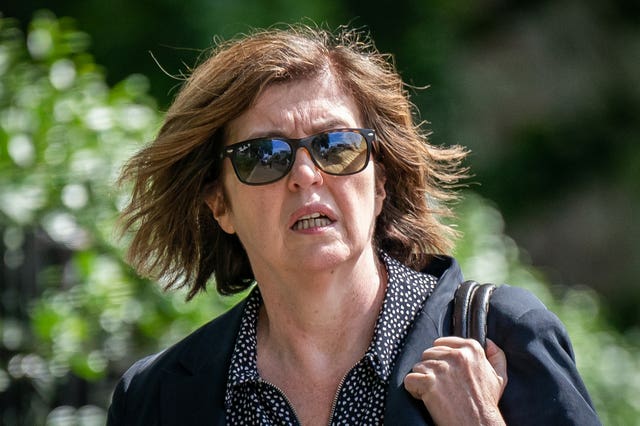 Labour has defended her decision not to contribute to the Cabinet Office probe into the circumstances of her departure, calling it a "political gimmick".
Deputy Prime Minister Oliver Dowden, who gave an update to MPs on Tuesday about the review, said the department had submitted a "confidential assessment" to the Advisory Committee on Business Appointments (Acoba).
The independent appointments watchdog will recommend a cooling-off period of between three months and two years to avoid any conflict of interest once it concludes its own separate review into Ms Gray's exit in March.
Mr Dowden did not, despite apparent briefings to the press, say that Ms Gray had broken Civil Service rules by speaking to the Opposition while still working for the Government.
While civil servants have to remain politically neutral, former Whitehall officials have questioned how a new job could be taken up without some contact with a new employer — in this case, a political party.
Speaking to Peston, the senior Opposition MP added that he "wouldn't be surprised" if Acoba recommended a "period of gardening leave" for Sue Gray.
The Civil Service Code dictates that a high-ranking Whitehall official of Ms Gray's standing cannot take a political position for three months, but the appointments watchdog could choose to extend that.
Mr Thomas-Symonds called Ms Gray, who led a Government investigation into allegations of parties being held in Boris Johnson's Downing Street operation during the coronavirus lockdown, a former official of "great integrity" and praised her "remarkable career".
"I think we've got to a stage here where so little do the Conservatives have to offer the country, we're talking about Labour staff recruitment," Mr Thomas-Symonds added.
Labour questioned the Tory focus on the Gray affair on the eve of English local elections in which Mr Sunak's party is predicting it could lose 1,000 seats.
A party spokesman said: "To be banging on about Sue Gray the day before the local elections shows just how out of touch the Tories are.
"Only Labour has a plan to cut crime, cut waiting lists and cut the cost of living.
"Sadly for the country, the Tories only want to talk about one former civil servant."
Asked about Sky's claim that contact was first made with Ms Gray in October, Labour said: "All the information has gone to Acoba and not going to comment during an active process."