Aircraft involved in the coronation flypast will jet over large parts of eastern and southern England, giving millions of people the chance to view them.
More than 60 aircraft from the Royal Navy, British Army and Royal Air Force – including the Red Arrows – are scheduled to fly over Buckingham Palace at around 2.15pm on Saturday.
But many people outside London will be able to see them as they fly to and from the capital.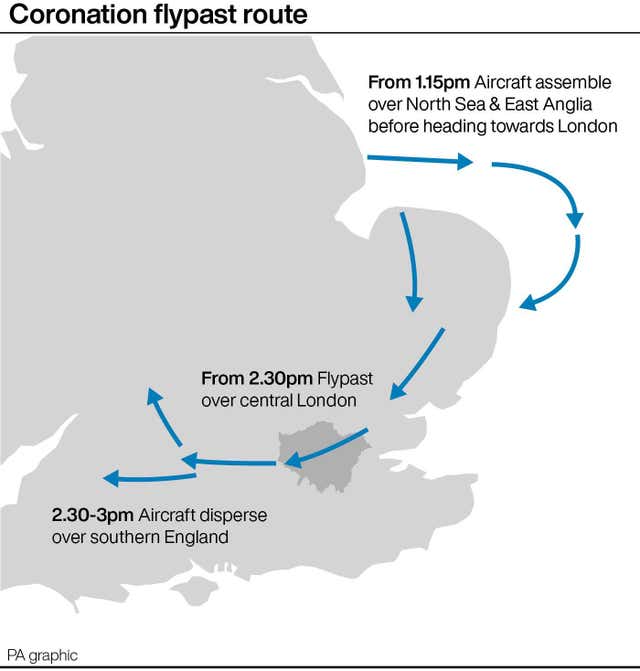 But airspace restrictions relating to the flypast have been announced, revealing the areas being flown over.
The restrictions have been split into eight zones, each with a specific time slot to prevent the aircraft being disrupted by other pilots.
These are the areas and times where people may be able to see some of the flypast aircraft:
– Area A between 1.15pm and 3pm: The Lincolnshire coast including Skegness and the Norfolk coast including Cromer and Great Yarmouth.
– Area B between 1.45pm and 3pm: Thetford, Norfolk and Bury St Edmunds, Suffolk.
– Area C between 2pm and 3pm: Ipswich, Suffolk.
– Area D between 2pm and 2.45pm: Colchester and Chelmsford, Essex.
– Area E between 2.10pm and 2.45pm: London
– Area F between 2.20pm and 3pm: Croydon, south-east London, and Epsom, Surrey.
– Area G between 2.20pm and 3pm: Farnborough, Hampshire; Reading, Berkshire; Swindon, Wiltshire; and Oxford, Oxfordshire.
– Area H between 2.20pm and 3pm: East Gloucestershire and west Oxfordshire.
– Area I between 2.20pm and 3pm: Marlborough and Tidworth, Wiltshire.