Shell became the latest oil major to beat forecasts on Thursday as an unexpected £1.4 billion boost pushed it to a record first-quarter result.
The Government faced further calls from opposition politicians and charities to close "loopholes" in its windfall tax as Shell said it made 9.6 billion US dollars (£7.6 billion) in adjusted earnings in three months.
It is the highest profit Shell has posted for the first three months of the year in its history, and 5.7% higher than last year.
Analysts had expected the company to make just under eight billion US dollars (£6.3 billion)
It follows a similar earnings beat from London rival BP on Tuesday, which made 700 million US dollars (£560 million) more than forecast.
The extra cash will allow Shell to pay its shareholders another four billion US dollars (£3.2 billion) by buying back its shares.
It will mean that shareholders have been given 12 billion US dollars (£9.6 billion) in the first six months of 2023. Shares rose 1% on the news.
Runaway prices across much of the economy have been caused by rises in the cost of oil and gas, sparked by Russia's war, which has benefited Shell and other fossil fuel companies.
It was only fair, therefore, that these companies paid more tax on their runaway profits, they said.
The Government has introduced an extra tax on the companies, but businesses can significantly reduce their bill if they invest in their North Sea oil and gas operations.
"It is staggering that Rishi Sunak and the Conservatives continue to refuse to implement a proper windfall tax to make the energy companies pay their fair share," shadow energy secretary Ed Miliband said.
"Politics is about choices. Labour is on the side of working people while the Conservatives are bunging billions to oil and gas giants."
The fact Shell thought it could pay further billions to shareholders was taken by some as proof that it could afford to pay more tax.
Russ Mould, investment director at investment platform AJ Bell, said that the share buybacks were a strategy to try to push up the company's share price.
"In a bid to close a yawning valuation gap to its US peers, Shell is busily buying back shares," he said.
"This undermines any pleas of poverty amid a push for increased levies on its bumper profit."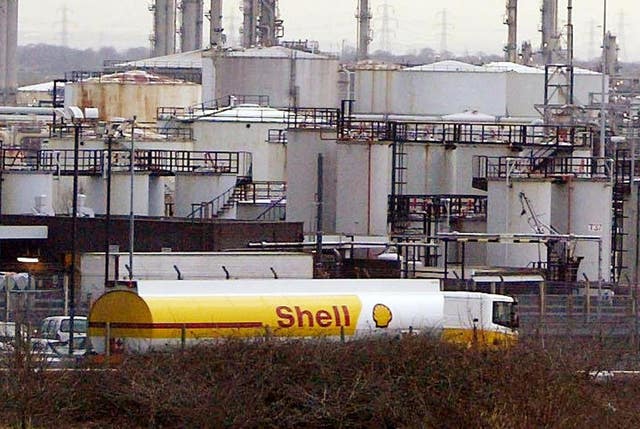 "Let me acknowledge that indeed, we do see a significant undervaluation in the Shell share and we are working hard as a management team to be able to plug that gap," he said.
It was Shell's trading arm which helped it push to new highs in the first quarter, the business said.
The company said it had decreased production slightly compared with a year ago, to 2.9 million barrels of oil equivalent per day. Revenue rose 3.3% to just under 87 billion US dollars (£69 billion).
It also announced plans to buy back shares worth four billion US dollars (£3.2 billion) from investors over the next three months to return cash to its owners.
On completion, the company will have distributed around 12 billion US dollars (£9.6 billion) to its shareholders in the first six months of 2023.
US gas giant ConocoPhillips also announced expectation-busting results.
Liberal Democrat leader Sir Ed Davey called on the Government to close the "loopholes" in the windfall tax which allow companies to offset their investments in the North Sea against tax.
"Shell's latest profits once again demonstrate the urgent need for a robust windfall tax on big energy companies," he said.
"Rishi Sunak's refusal to close windfall loopholes for big energy companies shows just how out of touch this Conservative Government is with the struggles that families are facing right now."
Alexander Kirk, a campaigner at Global Witness, said: "Despite the glaringly obvious inequality at the heart of our energy system, the Government appears to be making the same mistakes all over again.
"The simple truth is that the windfall tax has not worked and new evidence has shown that, through loopholes in the UK's tax regime, UK taxpayers are handing oil and gas companies billions extra in tax rebates."
The Treasury said: "Through the Energy Profits Levy we are ensuring excess energy profits – driven by Putin's illegal invasion of Ukraine – are being used to ease the pressure on families up and down the country."