A major London bridge should remain closed to cars, with driverless electric pods introduced for people with mobility difficulties, according to a climate charity.
The proposal would cost a fraction of the "hundreds of millions of pounds" needed to fully reopen Hammersmith Bridge in the west of the capital, according to Possible.
Cracks in the pedestals have led to motor vehicles being banned from using the 136-year-old cast iron structure since April 2019, leading to an increase in journey times for many people.
The plan published by Possible involves a two-way protected cycle lane running across the bridge, adjacent to autonomous pods available for people who cannot easily walk or cycle.
There would also be paths for pedestrians.
The solution is designed to work within the "existing engineering constraints" of the bridge, meaning only one of the fleet of 10 pods would be permitted to cross at any time.
The total scheme would cost less than £10 million, Possible said.
Leo Murray, a co-director at the charity, said: "In the four years since excess motor traffic broke Hammersmith Bridge and it was forced to close to cars, vehicle counts show that traffic has actually fallen across south-west London, even in key places where some local people believe it has got worse.
"With still no funding agreement in sight for the hugely costly work which would be needed to reopen Hammersmith Bridge to cars, it's long past time for authorities to take other options for meeting local transport needs seriously.
"Our proposal looks to the clean transport technologies of the future, and could genuinely be in operation serving local communities within months.
"All we need to go ahead is for the councils to agree to let us carry out a full feasibility study."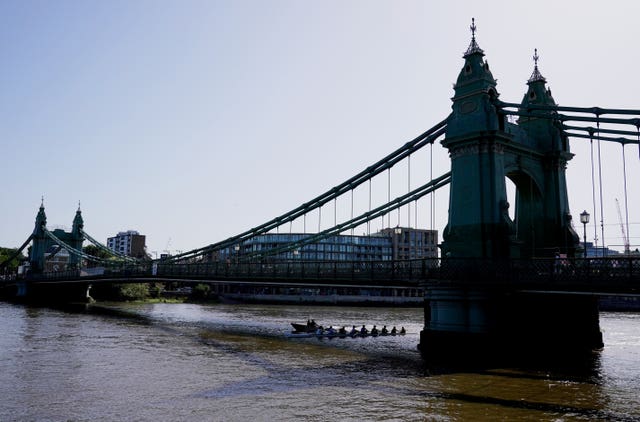 It reopened to pedestrians, cyclists and river traffic in July 2021.
Stabilisation work to make the bridge permanently safe for walking and cycling is due to be completed in the coming weeks.
The Department for Transport set up the Hammersmith Bridge Taskforce in September 2020 with the aim of bringing together parties involved to discuss temporary and permanent solutions.
The bridge is owned by Hammersmith and Fulham Council, which says it was "told by the Government to pay an unprecedented 33% of the original estimated £141 million to £163 million repair bill".
It added that the bridge "cannot be reopened to motor traffic for one simple reason: there is no money to pay for the costs".