The King has been presented with a feathered crown from an Amazonian elder just days before his coronation as he welcomed indigenous leaders from across the globe to Buckingham Palace.
Uyunkar Domingo Peas, spokesperson for the Sacred Headwaters of the Amazon, dressed in traditional costume and greeted a smiling Charles with a warm hug during an audience at the royal residence.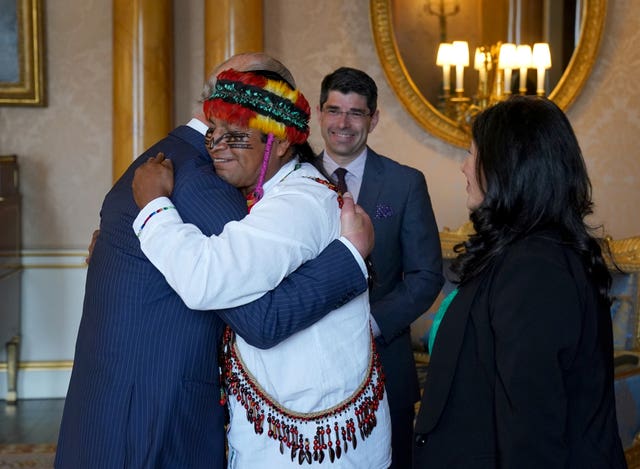 Uyunkar Domingo Peas, who was joined on Thursday by fellow leader Atossa Soltani, met the King at an environmental reception at the palace in February.
He presented Charles then with a necklace made from seeds to symbolise an alliance between the monarch and indigenous people.
Charles also welcomed the Ashanti King from Ghana, Otumfuo Osei Tutu II and Lady Julia Osei Tutu.
The King and Camilla met the Ashanti King in 2018 during an official tour to Ghana, and he has a long standing-relationship with the British monarchy, having also met the late Elizabeth II.
Charles, who is monarch of Canada, also held an audience with Canadian indigenous leaders Chief RoseAnne Archibald, National Chief, Assembly of First Nations, and Natan Obed and Cassidy Caron.