Former US leader Donald Trump has mocked the current President Joe Biden's physical abilities and golfing skills after hitting his first drive at his west of Ireland golf course.
Mr Trump was speaking to reporters while golfing at his resort outside the west of Ireland village of Doonbeg, Co Clare.
After hitting his first drive on the course, Mr Trump said: "You think Biden can do that? I don't think so.
"Biden doesn't hit a 280 right down the middle, does he?
Mr Trump, accompanied by his son Eric, arrived in Scotland on Monday, breaking ground on a new golf course at his Menie Estate near Aberdeen before playing a round at his Turnberry resort in South Ayrshire.
He continued his visit by travelling to Ireland on Wednesday, to inspect his resort at Trump International Golf Links and Hotel just outside the town of Doonbeg in Co Clare.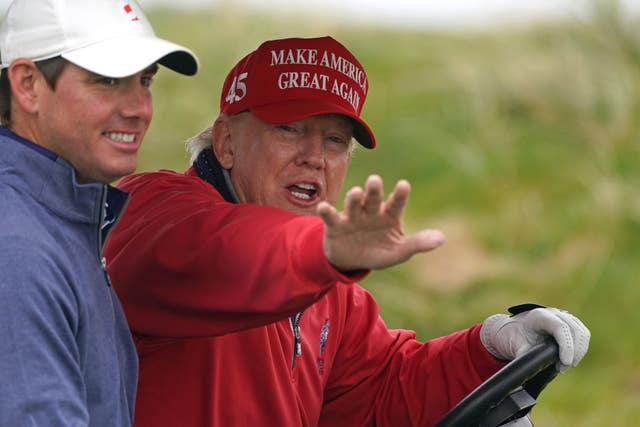 Asked if he was confident he could defeat Joe Biden in the next US election, he said: "I could win it three times."
He described his Democrat opponent, who defeated him in the 2020 poll, as "an incompetent person".
When asked whether he would be looking for the Irish American vote if he ran again for president in 2024, Mr Trump said: "I'm looking, right now I'm looking, that's why I'm talking to you."
Mr Trump was expected to travel to New York later on Thursday.