The Foreign Secretary said he broached areas of "deep disagreement" during a meeting with the Chinese vice-president in London.
James Cleverly said he "made plain" the UK's position on Hong Kong, Xinjiang and Taiwan during talks on Friday with Han Zheng ahead of the coronation.
The Chinese politician, who has been blamed for overseeing a crackdown on freedom in Hong Kong, was recently appointed as President Xi Jinping's deputy and is set to represent China at the royal event on Saturday.
Conservative MPs have criticised the UK Government's decision to invite Mr Han due to his previous role in Hong Kong.
It also comes at a time of increasingly fractious relations between London and Beijing, with a vocal section of Tory backbenchers calling for the UK to become more hawkish towards China due to security concerns.
Ministers updated the UK's integrated review on foreign and defence policy in March, describing China under Communist Party rule as representing an "epoch-defining and systemic challenge" to almost every aspect of Government policy and the everyday lives of British people.
Mr Cleverly, writing on Twitter on Friday, said: "Engagement with China means discussing areas of deep disagreement and vital co-operation.
"Today with VP Han Zheng, I made plain the UK's views on Hong Kong, Xinjiang and Taiwan.
"We also discussed working together on climate change, economic ties and people-to-people links."
The Foreign Secretary has taken a less harsh line with China than some in his party would like.
In a speech last month, the Cabinet minister said isolating China would be a "sign of weakness".
But some senior Tories want ministers to go further in distancing the UK from China and want the Government to be more outspoken in criticising the Far East country's leadership.
Former leader Sir Iain Duncan Smith is among those to have criticised the invitation for Mr Han to attend the Westminster Abbey service.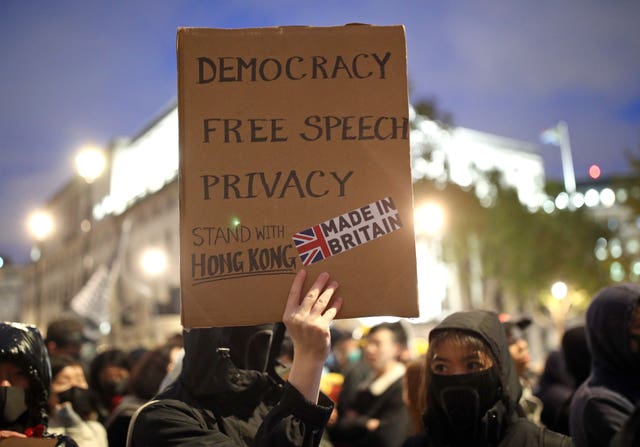 The move strained relations with the UK and led to the creation of a visa scheme allowing Hongkongers to come to Britain.
The UK has said China remains in breach of the 1984 Sino-British Joint Declaration, under which it has a duty to uphold Hong Kong's high degree of autonomy and rights and freedoms.
Hong Kong was handed over from the UK to China in 1997 with a promise by Beijing to keep Western-style liberties under a "one country, two systems" framework.
On Taiwan, there are international fears that China could look to take the self-governed island by force.
Taiwan and China split in 1949 following a civil war that ended with the Communist Party in control of the mainland.
The island has never been part of the People's Republic of China, but Beijing says it must unite with the mainland, by force if necessary.
In Xinjiang, there has been international condemnation of human rights abuses against the Uyghur people, with some being kept in mass incarceration camps.
Beijing describes them as re-education centres for the Muslim minority people.
Human rights charity Amnesty International said the UK's decision to invite Mr Han to Charles' crowning sent a "very dangerous message" as it called for ministers to hold the senior Chinese figure "accountable for his role in the brutal crackdown" in Hong Kong.
Sacha Deshmukh, chief executive of the charity's UK arm, said: "The invitation to Han Zheng risks sending the very dangerous message that the UK is prepared to prioritise the financial rewards that come from good relations with China over its atrocious human rights record in places like Hong Kong and Xinjiang.
"There must be no question of the UK authorities allowing the coronation to be used as a tool for international diplomacy for anyone involved in human rights abuses."