The Princess of Wales has described the King's coronation as a "great moment for celebration" as the Prince praised The Mall's "party atmosphere".
William and Kate joined the King for a surprise walkabout in The Mall meeting royalists who have staked their spot on the famous London thoroughfare.
With Prince George set to play a starring role in the coronation and Princess Charlotte and Prince Louis expected to attend the historic event, the princess revealed her children were "a bit nervous" and "excited" and could not wait for the day.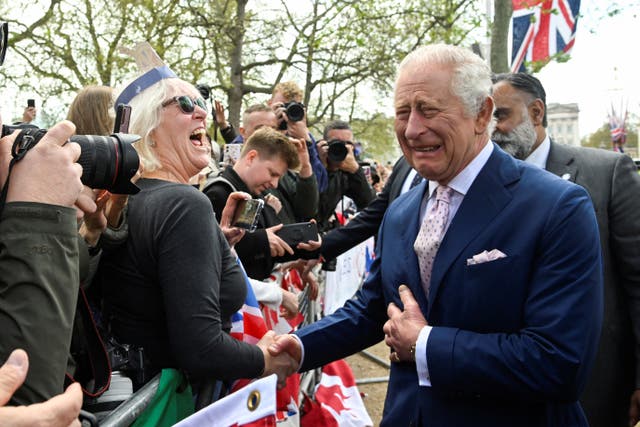 Charles took a break from a busy schedule of meetings and official engagements, including a final coronation rehearsal at Westminster Abbey, to go on the walkabout which lasted more than 20 minutes with his son and daughter-in-law.
The prince and princess posed for selfies on the other side of The Mall to the King, and chatted to people behind crash barriers with Kate telling one person she had an early start tomorrow but the occasion "is a great moment for celebration".
Quizzed by a BBC reporter how George, Charlotte and Louis were "doing", Kate replied: "They're really well, thank you.
"Excited, a bit nervous obviously with a big day ahead – can't wait actually."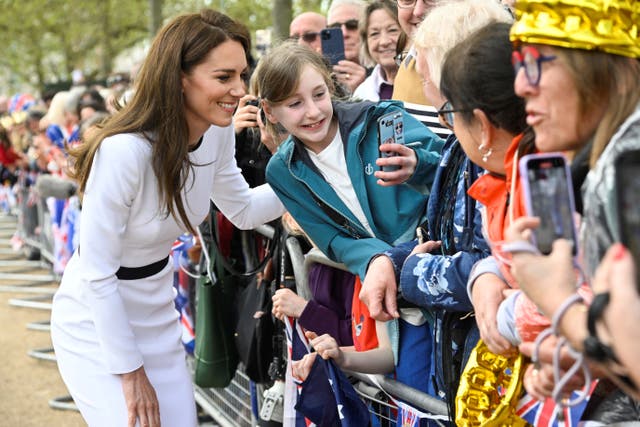 Questioned about how she and husband William were coping, the princess replied: "All good, hopefully a bit like swans, relatively calm on the outside and paddling on the inside."
And when asked about the King, she said: "Looking forward to it as well."
The couple posed for selfies with the royal fans, crouching down to get into the frame and at one point Kate joined a live video call with a woman's father called Peter.
Waving at the person on the other end of the call, she said: "Hi Peter, sorry you're not here."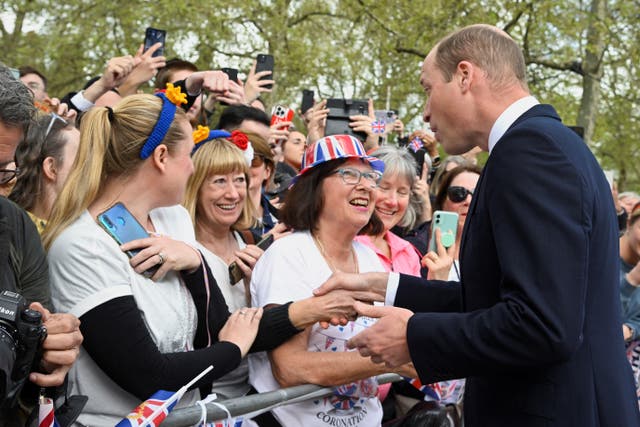 When one woman told William she had flown from Phoenix, Arizona, and would be camping out in The Mall overnight, he replied "No way, well done you."
He added with a smile: "There's not much sleeping going on around here, they're all sat in their chairs. I think there's a good party atmosphere."
With rain forecast for Saturday he put his hands together and said: "I pray you guys stay dry."
Preparations for the coronation are nearing their completion with The Mall decorated with huge union flags and others from the Commonwealth and crash barriers and other crowd control measures in place.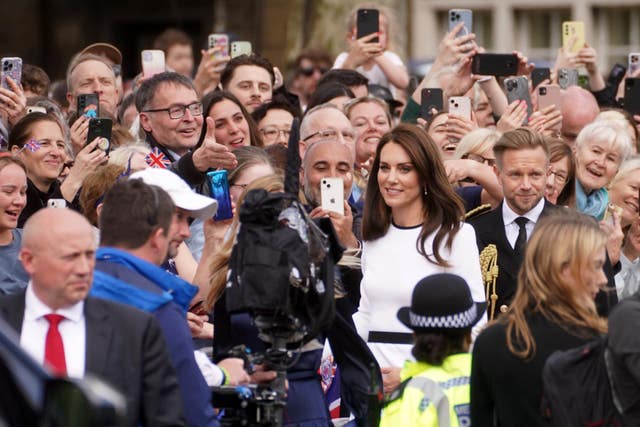 She said: "He said, 'thank you for coming' and he appreciated it and I did say it was my birthday and he said, 'oh, congratulations'.
"I was shaking. I saw his hand coming out to mine and I was like, 'I can't believe I'm shaking the King's hand'. A special moment."