The royal family wore an array of intricate gowns and grand velvet cloaks signifying their membership of historic orders of chivalry at the King and Queen's coronation.
The ceremony was a Collar Day meaning the Windsors could wear morning dress with mantles appropriate to the most Senior Order to which they belonged – the Order of the Garter, Thistle or Royal Victorian Order.
Here are the ensembles worn by the royals in Westminster Abbey:
– The King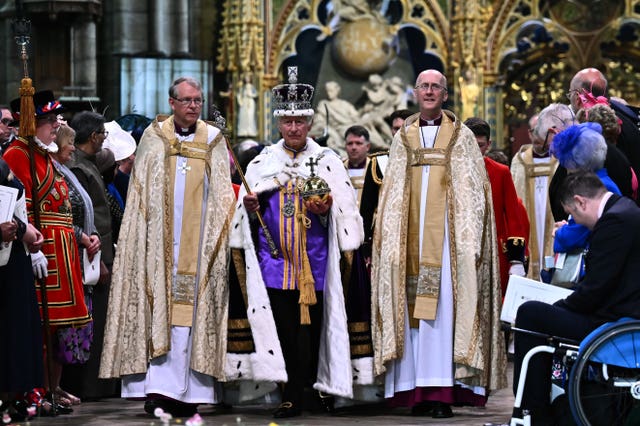 His deep red Coronation Tunic, made by Ede and Ravenscroft, and overshirt, with collars and cuffs featuring embroidered oak leaves and acorns, was inspired by designs worn by George V and George VI.
At the end of the ceremony for his departure, the newly crowned monarch swapped into a newly-made purple satin Coronation Tunic, trimmed with gold artillery lace, and George VI's grand purple silk velvet and gold embroidered Robe of Estate.
The King wore his Garter Star and Garter Collar decorations.
– The Queen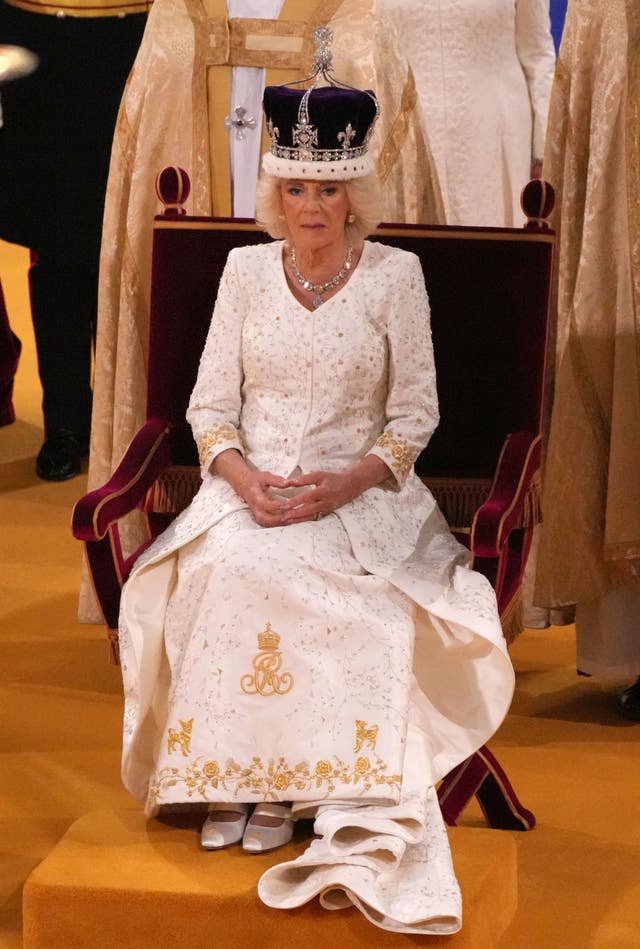 With motifs of daisy chains and forget-me-nots, it represented the King and Camilla's affection for nature, and also featured celebratory bunting, in antique gold and silver thread.
Oldfield's vision was to create a sophisticated and modern dress that showcases Camilla's style and personality in its details, Buckingham Palace said, describing it as "simple and tailored".
On top, for her arrival at Westminster Abbey, the Queen wore the crimson velvet Robe of State with long train originally made for Queen Elizabeth II in 1953.
At the end of the service, Camilla changed into her new purple velvet Robe of Estate, embroidered with gold motifs of 24 flowers.
– Princess of Wales
Her silver bullion, crystal and silver thread work three-dimensional leaf embroidery headpiece was by Jess Collett x Alexander McQueen.
The princess' earrings were a touching tribute to William's late mother, with the pearl and diamond pieces belonging to Diana, Princess of Wales.
She also wore Queen Elizabeth II's George VI Festoon Necklace, which George VI commissioned for his daughter Princess Elizabeth in 1950.
– Prince of Wales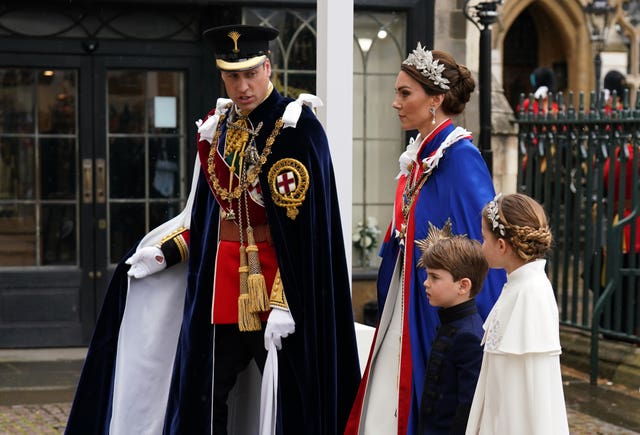 The cloak – which the prince wears to the Order of the Garter ceremony in June at Windsor each year – was made from deep blue silk velvet with white satin ribbons and a lining of white taffeta.
His dress uniform, single-breasted in style with a stand-up collar, was made from Hainsworth Scarlet Wool Doeskin.
William wore his Pilots Wings badge, and his Queen's Golden, Diamond and Platinum Jubilee medals.
His leg garments – known as overalls in the Army – are made from a blue-black wool barathea with two inch scarlet stripes.
The prince also wore his Order of the Thistle sash and badge, Garter Star and Thistle Star, Order of the Garter Collar and Great George of the Order of the Garter.
– Prince George – as one of the King's Pages of Honour
He wore an ivory silk satin waistcoat trimmed in gold braid, with wool trousers and boots.
The uniforms were originally made during the reign of Elizabeth II and have been retailored for the coronation
– Princess Charlotte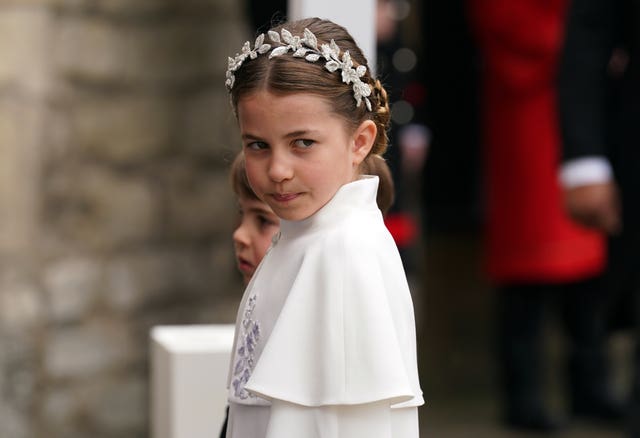 She also wore an Alexander McQueen dress – with a cape – in ivory silk crepe, with rose, thistle, daffodil and shamrock motifs – with the emblems also featuring on her mother's dress.
– Prince Louis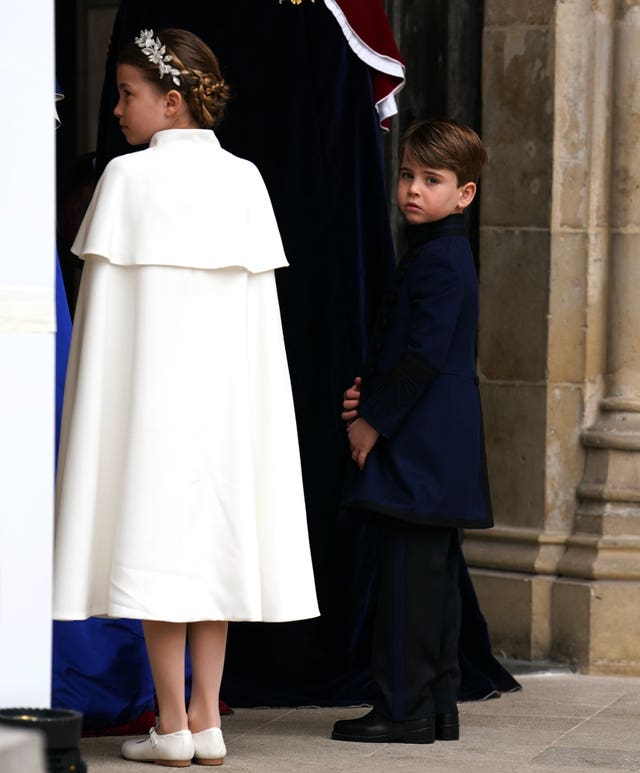 The youngster's leg garment was black, complete with Garter Blue stripe.
– The Queen's Pages
Gus Lopes and Arthur Elliot wore outfits based on the uniform of the Rifles, of which Camilla is Colonel in Chief, with green jackets and contemporary red Rifles piping, collar braid on the neck and front, and the Queen's cypher on the shoulder.
Louis Lopes and Freddy Parker Bowles wore uniforms based on the Grenadier Guards, of which Camilla is Colonel-in-Chief.
The red outfits had gold cuffs and an Officer's gold and crimson sash around the waist and Camilla's cypher on the shoulders.
– The Queen's Companions:
Fiona Clare designed and made the dresses of the Marchioness of Lansdowne and Camilla's sister Annabel Elliot.
– Duke of Edinburgh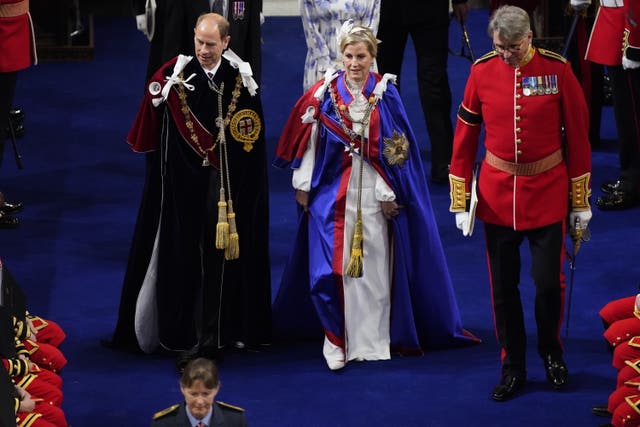 – Duchess of Edinburgh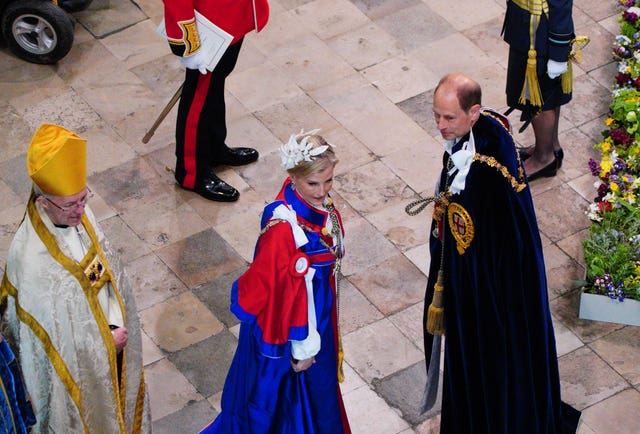 – Princess Royal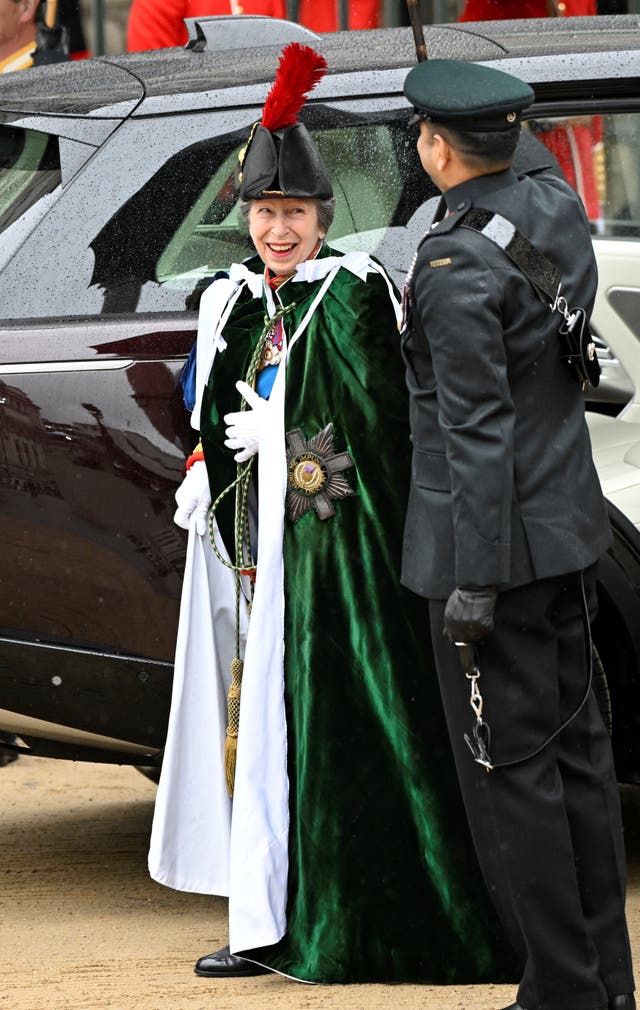 The Thistle cloak is made from deep green silk velvet with a lining of white taffeta, and features a hand embroidered gold badge and garter blue velvet hood.
– Duke and Duchess of Gloucester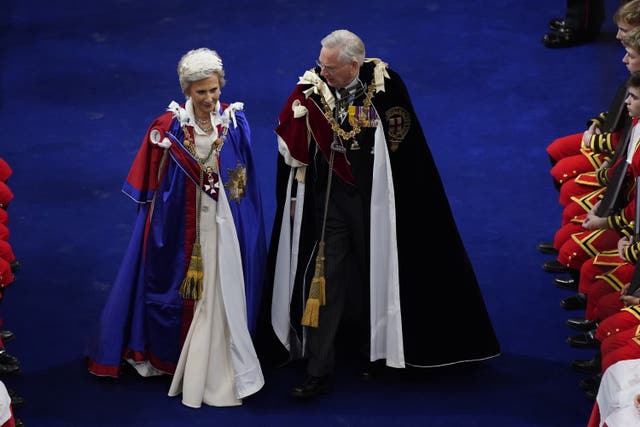 – Duke of Kent
The Duke of Kent wore a morning coat with Garter Star and Order of St Michael and St George neck decoration with Garter Mantle and Collar.
– Princess Alexandra
Princess Alexandra wore a white dress with the Mantle of the Royal Victorian Order and the Garter Star.