The King and Queen will be crowned in Westminster Abbey's coronation theatre, with a raised dais constructed level with the medieval treasure, the Cosmati pavement.
The stage will be set with the Coronation Chair – the ancient St Edward's Chair in which Charles will be anointed and crowned – in the centre of the 13th century mosaic flooring.
To the side will be Charles and Camilla's campari-coloured silk damask Chairs of Estate, where they will begin the service and where the Queen will be anointed and crowned.
Both the King and the Queen will later in service be enthroned on the red velvet Throne Chairs which sit on the dais to the rear of the Cosmati pavement.
In contrast with Queen Elizabeth II's coronation in 1953 when the mosaic was covered with carpet, it remains uncovered.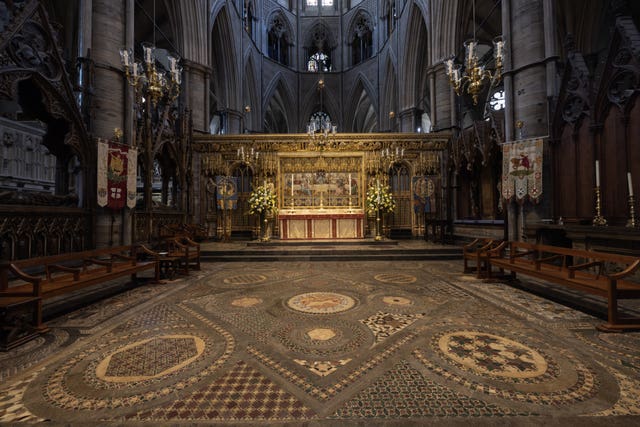 It was hidden under carpet and away from public view for nearly 150 years from the 1870s until it was unveiled after a two-year programme of conservation work in 2010.
Its cryptic inscription even predicts the end of the world, claiming it would last 19,683 years, with a riddle adding together the life spans of different animals including dogs, horses, men, stags, ravens, eagles and whales.