Rishi Sunak hailed the "friendship" between the UK and Canada, as well as between himself and Justin Trudeau as he welcomed the Canadian premier to Downing Street.
The pair met over tea, as part of a series of bilateral meetings the Prime Minister was holding around the King's coronation.
Mr Trudeau was one of the world leaders who watched the royal event at Westminster Abbey earlier.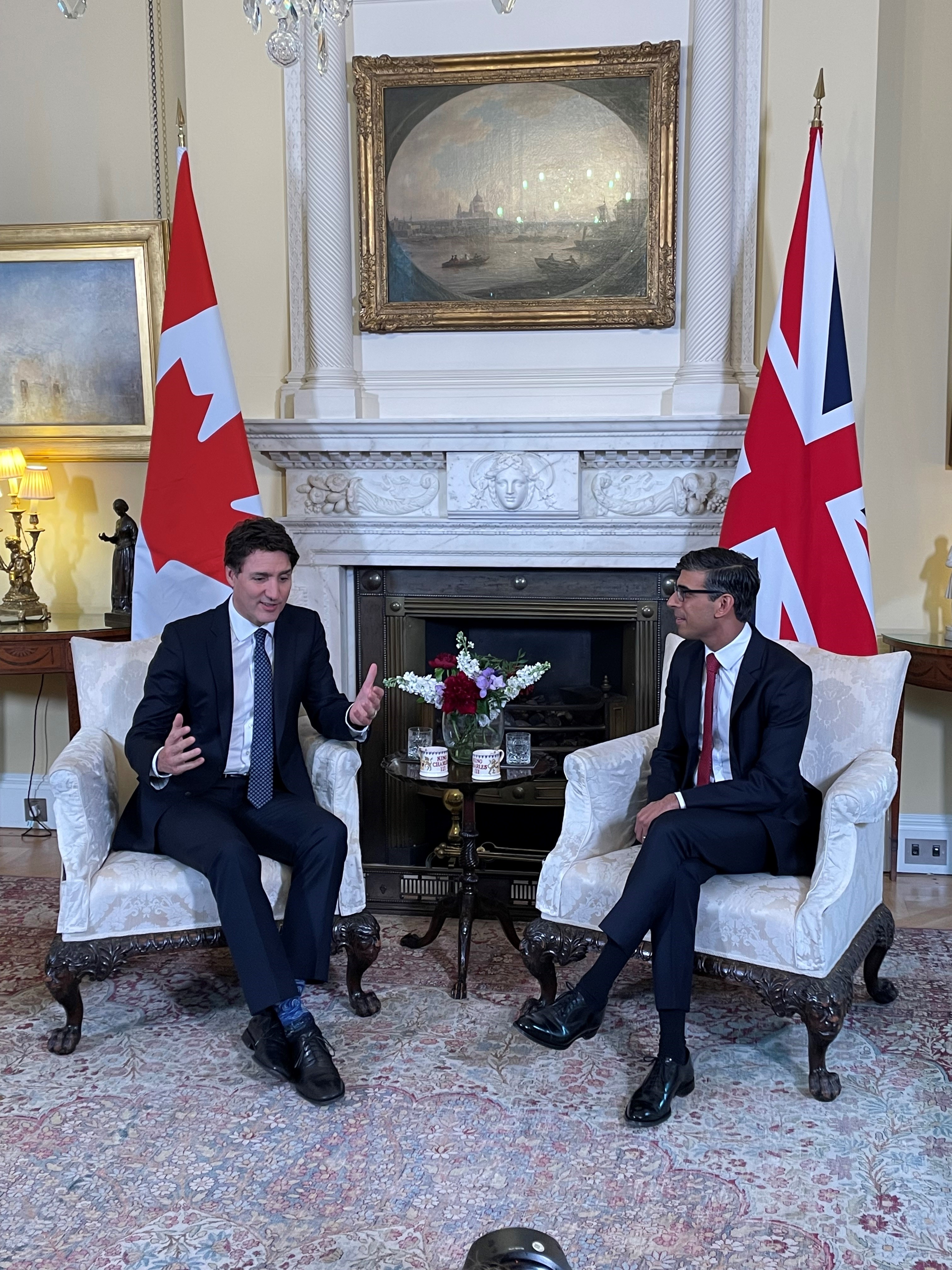 Speaking in front of the media ahead of their private talks, Mr Sunak said: "We've seen each other a lot over the past few months, but I think that speaks to the friendship between our two countries and between you and I.
"We're members of all the same clubs, whether that's the G7, the Commonwealth – obviously important at the moment, Nato."
He thanked Mr Trudeau for his support in the UK's accession to the Comprehensive and Progressive Agreement for Trans-Pacific Partnership (CPTPP), and said they would continue to work together to support Ukraine.
The Canadian leader stressed the two countries' shared values.
"We are aligned on how we're going to move forward, standing strong for our values, making sure there's opportunities for jobs and growth for citizens across our countries and around the world as we work together."
The duo then admired coronation teacups made by Emma Bridgewater, a pottery with strong royal connections.
According to a read-out of their meeting, Mr Sunak and Mr Trudeau "remarked on how special the occasion had been and reflected on their conversations with counterparts from across the world".
"The leaders also discussed how Canada and the UK could deepen collaboration on defence and security technology, including in cyber security and quantum."
They "agreed on the importance of ensuring Ukraine continues to get the support it needs for its defence and reconstruction, now and for years to come".
At the coronation, Mr Trudeau was joined by his wife Sophie Gregoire Trudeau, governor general Mary Simon and several other dignitaries.
Canada's premier tweeted: "Today, we celebrated the Coronation of King Charles III and reaffirmed Canada's enduring commitment to the Commonwealth."
Canada is one of the 14 Commonwealth realms where the British monarch is head of state.
Mr Trudeau had a video call with the King as part of a busy run of diplomatic duties for Charles ahead of the coronation.
The King also met with Canadian indigenous leaders, Chief Roseanne Archibald, Natan Obed and Cassidy Caron.
Mr Sunak's calendar of pre-coronation diplomacy, which came amid a difficult set of local election results for him, also featured meetings with the Australian and New Zealand prime ministers, the Emir of Qatar and Brazilian President Luiz Inacio Lula da Silva on Friday.