A 93-year-old woman told the Prince of Wales how she slept on the pavement for three nights to see his grandmother's coronation.
Dame Elizabeth Watts was one of thousands of guests at Buckingham Palace for a garden party on Tuesday where William and the Princess of Wales represented the King, alongside the Duke and Duchess of Edinburgh.
Eight thousand people were welcomed into the grounds for the event, which celebrated the work of volunteers, military personnel and members of the public.
Dame Elizabeth, of Solihull, told the PA news agency: "I came to Elizabeth's coronation and slept on the pavement for three nights.
"I had measles for George's coronation when I was seven years old. Of course, there was no television then so I couldn't watch it but we had an accumulator radio."
Dame Elizabeth added: "It means absolutely everything [to be at the garden party].
"I was so surprised, I was nominated by St John Ambulance Service because I've done 79 years of voluntary service and when I was invited I was just amazed.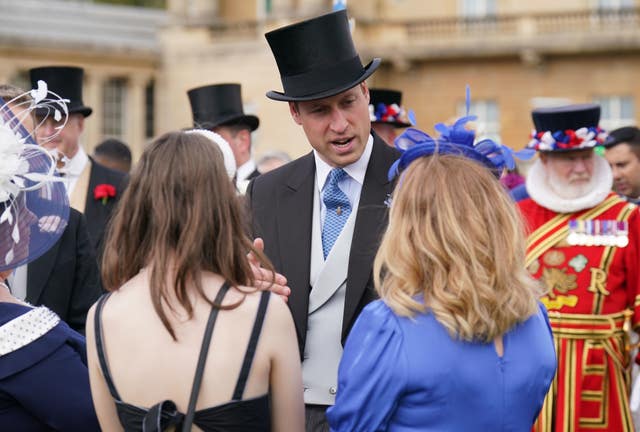 "I've done everything, I'm not being funny. I joined as a cadet then I ran a cadet division and since then I have been the deputy commissioner."
Among the people waiting to meet the Princess of Wales were Aldith Grandison, 93, and her daughter and carer Jay Cee La Bouche, 56, who were representing Carers UK.
Speaking to the PA news agency, Ms La Bouche said: "What a very, very, very special moment for everyone.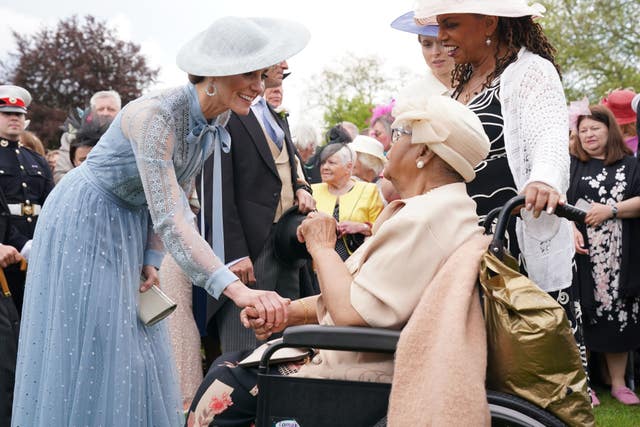 "I've done a lot of volunteer work in the form of raising carer awareness and more recently I've done laughter sessions for carers online, which started during lockdown."
Ms Grandison said: "I'm over the moon to meet Kate and be here with all these people. My daughter Jay Cee is my rock. This is a memory of a lifetime, I will never forget this."
The mother and daughter watched the coronation celebrations on television at their home in Wandsworth before travelling to the palace on Tuesday.
On what keeps her going, Ms Grandison, who suffers from a spinal condition which has meant her mobility has deteriorated over the years, said: "In the words of Bob Marley, 'don't worry about a thing, every (little) thing will be alright' – Don't forget that, just remember what this old lady said."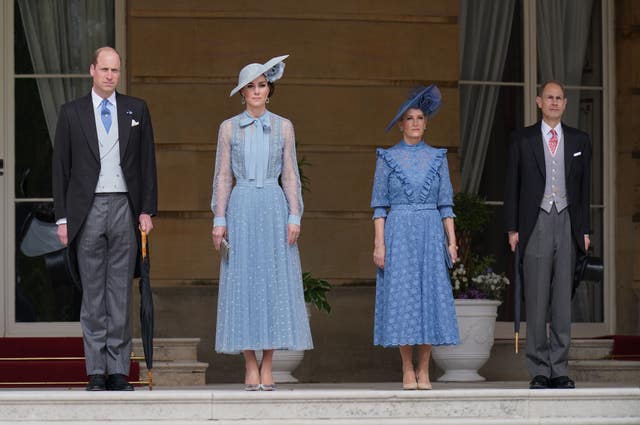 Speaking about how Scouts were involved in the weekend of celebrations, Mr Turpie said: "We had several hundred scouts from across the country and the Commonwealth attending to assist with queue management for the coronation itself and a number of them were privileged to sit in St Margaret's Church.
"A lot of those scouts from the Commonwealth travelled from places like Singapore and India, but they also had the opportunity to meet members of their heads of state, which has provided a really good opportunity to ensure that scouting across the Commonwealth is seen and understood as well."
He added: "I think, as Scouts, we make a promise to do our duty, including to the King and therefore it's in our DNA to play a part in occasions like this, which are very rare.
"It was a good opportunity to see Scouts from across the country and the Commonwealth be part of it, as opposed to just spectating."