A skateboarder says he is heartbroken after he had to abandon his attempt to break two distance records in one day due to injury, but pleased he has raised awareness and thousands of pounds for mental health charities.
Ryan Swain, from Malton, North Yorkshire, began his attempts to break the Guinness World Record for the furthest distances travelled on a skateboard in 12 hours and 24 hours, at Elvington Airfield, near York, on Monday.
But rain, wind and standing water made the runways treacherous and he eventually had to withdraw after pulling his hamstring.
Mr Swain, 32, said he managed 90 miles, which he thinks is a British record, and his team are also looking into whether he has broken any other records for a conventional skateboard, as the world records he was trying to better were all done on specialist longboards.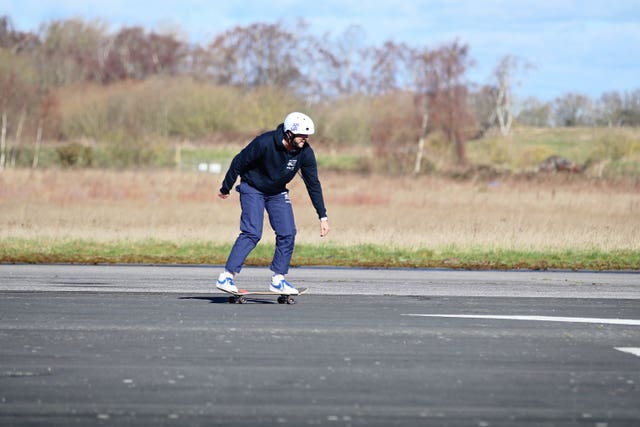 "The first three hours were amazing then this rain hit, making the conditions very wet and very slippery. Then there was two or three millimetres of surface water and 15mph winds.
"And then, about six hours in, I felt my hamstring rip."
Mr Swain continued for a few more hours but eventually realised he could do himself some serious long-term damage and took the difficult decision to stop.
"I probably did a lot more damage but I didn't want to give up," he said, "I wanted to see it through.
"Even if I wasn't going to break a world record, I wanted to get as much mileage in as I could.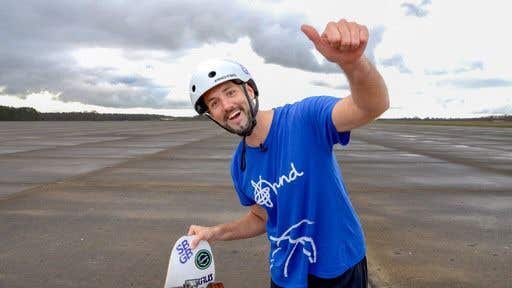 He was aiming to cover 300 miles over the 24-hour period. The record is 261.8 miles, set by Andrew Andras in Florida, in the US, in 2013.
Mr Swain lives with adult attention deficit hyperactivity disorder (ADHD) and was determined to use his love of the sport to raise awareness of neurodiversity and mental health disorders.
He said: "The main idea was to raise awareness, which it has done massively."
And he said he is determined to try again. "At a later date, definitely," Mr Swain said.
"I've got into this thing now and I believe I can definitely do it – no doubt about that.
"I was heartbroken and I cried like crazy at the end, just because I wanted it so badly.
"But what we've achieved is enormous enough as it is, and I'm very thankful to everyone that got involved."
He said: "ADHD and neurodivergence are massive parts of my life and if I can give back to anybody else that is enduring them, hoping it resonates and gives out a message that even if you're facing something really difficult there's always a way out of it, you've just got to be able to communicate and talk.
"I could have just pretended everything was fine and carried on and ended on doing serious damage to my body and my mental health.
"I'm happy with what we achieved, we've raised thousands and thousands of pounds for three amazing charities. I'm proud of that."
Mr Swain was raising money for Mind, Andy's Man Club UK and the Next Steps Mental Health Resources Centre, in Malton.
He said: "Obviously I'm heartbroken but it wasn't really about me.
"For me, the message is more important.
"Hopefully this will draw the right attention now to mental health and try and lift that stigma."
Mr Swain said he was "overwhelmed" by the support he has received, including from Michael Edwards, better known as Olympic ski-jumper Eddie the Eagle, who sent him an encouraging video message.
More details about the challenge and Mr Swain's fundraising can be found at https://www.justgiving.com/fundraising/ryanswain24hoursskate.