A woman has died in hospital after she was shot while police engaged in a stand-off with a man in Kent.
Armed police and a trained negotiator were scrambled to a terraced house in Priory Road, Dartford, at 12.40pm on Saturday afternoon following reports of a disturbance.
The woman, aged 36, was taken to a London hospital suffering from shots from a handgun – where Kent Police say she died on Monday evening.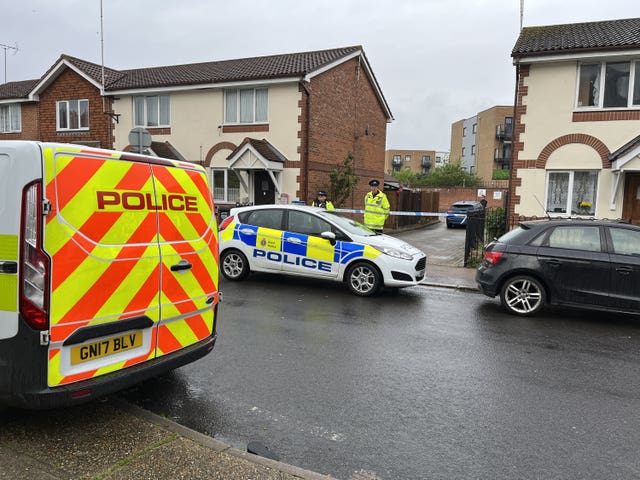 A force spokesman said: "An investigation into a firearms incident at a property in Dartford is now being treated as murder after the victim died in hospital.
"Officers, along with a trained police negotiator, attended and attempted to engage with a man inside the address.
"Firearms officers also attended and whilst they were at the scene, a 36-year-old woman suffered injuries believed to have been caused by a handgun and she was taken to a London hospital.
"The victim died from her injuries shortly before the evening of May 8.
"The man, aged 29, was also taken to hospital with a firearms injury and he remains in a critical condition.
"He is being treated as the suspect and an investigation is being led by the Kent and Essex Serious Crime Directorate."
Witnesses described how police cordoned off the road and ordered people to stay inside their homes, before officers broke through the front door.
After an hour-long stand-off, "pandemonium" broke out and neighbours heard what they described as sounding like two rounds of gunshots.
One woman, who wished not to be named, described the scene as "chilling".
Kent Police made a mandatory referral to the Independent Office for Police Conduct (IOPC) because police were at the scene at the time of the injuries.
No police weapons were discharged.
An IOPC spokesperson said: "On Saturday we were notified by Kent Police about a firearms incident in Dartford, where a woman and a man sustained serious injuries.
"We have now been advised that sadly the woman involved has died.
"Today we received a mandatory referral from Kent Police regarding this incident, which we are assessing to determine whether any further action is required from us."