The Archbishop of Canterbury has made a rare intervention in the House of Lords, to criticise the Government's Illegal Migration Bill as it faces its first test in the upper chamber.
Justin Welby argued against the flagship legislation aimed at ensuring people who arrive in the UK in small boats would be detained and promptly removed, either to their home country or a third country such as Rwanda.
The intervention marked his second major rebuke of the Government's treatment of migrants and asylum seekers.
The archbishop, who crowned the King in Westminster Abbey on Saturday, said he did not think the Bill would stop the small boats crossing the English Channel.
He told peers: "We need a Bill to reform migration. We need a Bill to stop the boats. We need a Bill to destroy the evil tribe of traffickers. The tragedy is that without much change this is not that Bill.
Highlighting the existing global agreements on refugees, Mr Welby said: "While now inadequate, what those conventions offer is a baseline from which to build a globally shared understanding of what protection must be given to refugees.
"They are not inconvenient obstructions to get round by any legislative means necessary."
He added: "Even if this Bill succeeded in temporarily stopping the boats, and I don't think it will, it won't stop conflict or climate migration."
The unelected chamber sat from 11am on Wednesday to consider the Bill at second reading after it passed the Commons, with almost 90 speakers including the archbishop being listed.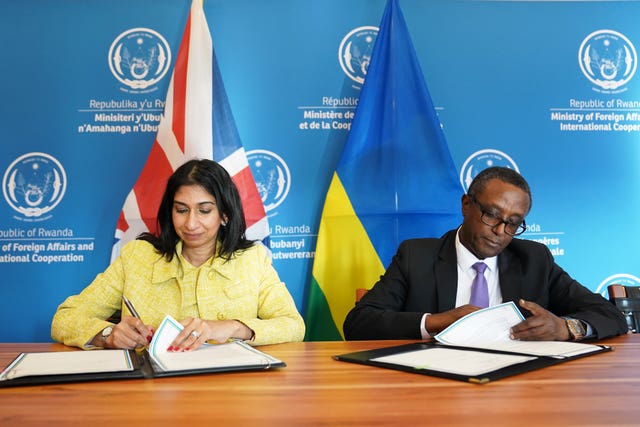 Writing jointly for Times Red Box, they said: "We urge the House of Lords to look at the Illegal Migration Bill carefully, remember it is designed to meet the will of the British people in a humane and fair way, and back the Bill."
The Bill includes provisions that would limit the ability of the European Court of Human Rights (ECHR) to prevent the deportation of asylum seekers.
The clampdown has been prompted by Prime Minister Rishi Sunak's pledge to "stop the boats" bringing migrants across the English Channel.
More than 6,000 migrants have crossed the channel so far in 2023.
To cope with the numbers, the Government plans to use disused military camps and a barge as accommodation centres.
But critics say the reforms break international law and threaten modern slavery protections.
The archbishop, in a speech to the Lords last year, warned against "harmful rhetoric" that treats those arriving in the UK as "invaders".
He has previously called for a better system based on "compassion, justice and co-operation across frontiers".