Andrew Bridgen has resisted calls for a by-election after announcing his defection to the Reclaim Party.
The former Conservative MP said he expected a general election within 12 months and did not want to put his constituents through two trips to the polling station in a year.
Speaking at an event in Westminster to announce his defection to Reclaim, the party led by actor Laurence Fox, Mr Bridgen said: "I wouldn't want to put my constituents through the rigours of having two general elections in 12 months. They don't tend to like it very much."
The North West Leicestershire MP has faced calls to stand down and trigger a by-election since his move to become Reclaim's first MP was announced on Tuesday.
Amanda Hack, a Leicestershire councillor and Labour's candidate in North West Leicestershire, said: "If he wants to try his luck as Britain's first-ever Reclaim MP that's fine, but the choice should not be down to him.
"That choice should lie with the voters of North West Leicestershire. He should resign immediately and put his extreme views to the test at a by-election."
Liberal Democrat deputy leader Daisy Cooper has also called for a by-election, saying: "Andrew Bridgen and his misinformation have absolutely no place in the House of Commons and now his defection to a failed fringe political party cements it.
"If Bridgen wants to sit as an MP for this party he should do the right thing – resign and call a by-election."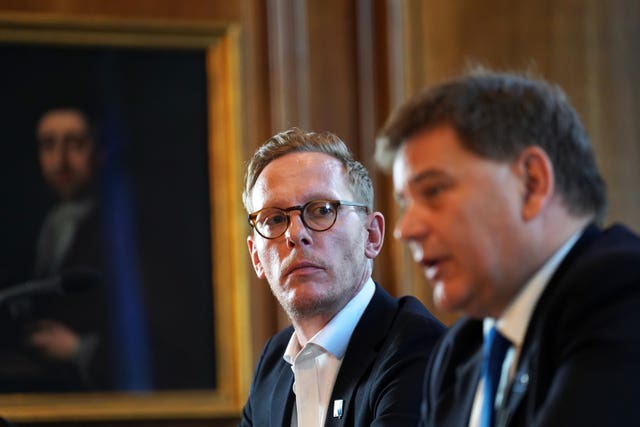 In 2019 he said then-MP Anna Soubry was "hypocritical" for refusing to stand for re-election after leaving the Conservatives over Brexit.
He said at the time: "In good conscience, to your electorate, if you move party, then you should have an election."
Mr Bridgen's announcement comes two weeks after he was expelled from the Conservative Party over a tweet in which he described Covid-19 vaccinations as "the biggest crime against humanity since the Holocaust".
Appearing alongside Mr Fox on Wednesday he said a "huge chasm" had opened up between Parliament and the people, and he was joining Reclaim "because they respect free speech as the basis for every aspect of our democracy and our society".
Describing the Conservatives as "misguided and out of touch", he said: "I believe that true change can only be achieved from outside the party."
"In the Conservative Party I was a prisoner, but now I have reclaimed my freedom."
Mr Fox welcomed Mr Bridgen to the party, describing him as an "actual conservative" who would "fight for Britain".
He said: "The British people have a right to hear what Andrew Bridgen has to say, and the Reclaim Party will make sure he is heard."
Mr Fox said his party plans to run a "very targeted" campaign at the next general election, targeting "problematic" MPs.
He said: "We are not looking to stand in 650 seats. We are looking to find problematic Tories particularly, or Labour, and stand there, stand on our principles where wokery has taken off terribly and cancel culture exists."
He also left the door open to deals with other "anti-woke" parties such as Reform UK, the successor to the Brexit Party.