Buildings and memorials with Ukrainian heritage in the north of England are being recognised by the listings system in the run-up to the Eurovision Song Contest as a way of celebrating the "resilience and resourcefulness" of the communities.
A Ukrainian community memorial in Bradford and two Ukrainian churches in Salford and Oldham have been granted Grade II listed status by the Department for Culture, Media and Sport (DCMS), on Historic England's advice.
A further three churches, in Manchester and Bradford, and a community centre in Huddersfield which are all already listed will have their stories updated on the National Heritage List for England (NHLE) to reflect the significance of their Ukrainian history.
The Rev Dr Taras Khomych – a Ukrainian Catholic Priest, senior lecturer in theology at Liverpool Hope University and chair of the Liverpool branch of the Association of Ukrainians of Great Britain, said: "Highlighting the stories of Ukrainian communities in the north of England is a wonderful way of supporting our heritage at a time when, once again, it is under threat in Ukraine."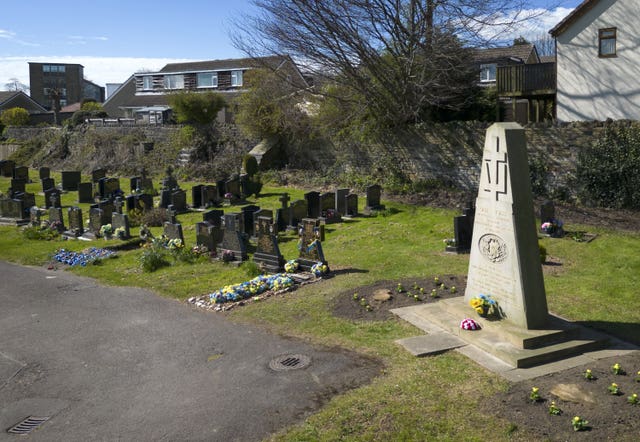 "These places were established as safe spaces, over decades, by people who wanted to keep Ukraine in their hearts and their heritage alive.
"They show the resilience and resourcefulness of Ukrainian communities and their dedication to protecting their language, beliefs and way of life."
Historic England said Ukrainians began to settle in Manchester in the late 19th century and around 35,000 arrived following the Second World War as part of a scheme to address labour shortages by providing jobs in industry and agriculture.
More Ukrainians migrated to England following the collapse of the Soviet Union and, most recently, to escape the Russian invasion of Ukraine in 2022.
Historic England said these communities have often shared or adapted existing buildings.
It opened in the late 19th century as the Sunday school for the nearby congregational church and was bought by the Ukrainian community in 1954, when it was converted by adding traditional features including an iconostasis – a brightly-coloured, highly ornate screen of icons.
At the front of the church, a black granite plaque has an inscription, in Ukrainian and English, which reads: "In memory of seven million victims of Moscow made famine in Ukraine 1932-1933."
The Ukrainian Catholic Church of St Peter and St Paul and All Saints, in Oldham, started life as an Anglican church in 1889 and was adopted in 1987.
Historic England said it is "a fantastic blend of English and Ukrainian religious traditions".
The Ukrainian Community Memorial, in North Bierley municipal cemetery, Bradford, celebrates 1,000 years of Christianity in Ukraine and pays tribute to those who have lost their lives in war.
Edgerton Hill Ukrainian Community Centre in Huddersfield is also having its listing upgraded.
The Georgian villa has been at the heart of the Ukrainian community in Huddersfield since the mid-1960s and is now providing support for the new wave of refugees fleeing war in Ukraine.
John Kybaluk, 58, who is chair of the committee of volunteers that run the centre, said: "The club was started by people who had to leave Ukraine because of war.
"Now it's gone full circle and we're helping refugees who have escaped the fighting.
"We're like an embassy. People turn up and ask us for help and advice."