Penny Mordaunt has said she is grateful after praise was heaped on the Conservative Cabinet minister for her role in the King's coronation.
As Lord President of the Council, she was responsible for bearing The Sword of State and presenting The Jewelled Sword of Offering to the King – the first time it has been carried and presented by a woman.
Dressed in a custom-made teal outfit with a matching cape and headband with gold feather embroidery, she held and carried the pieces for the majority of the service.
Writing in the Telegraph, she described the occasion as a "humbling day" and said she was "grateful" that people had decided to recognise her role in the event.
"This is a life lived in the public eye. The royal family sets a parenthesis. We politicians should heed this example. We, too, have a choice. We can decide to narrow the parenthesis. Or we can decide to widen it. It takes courage, patience and judgment to listen to all views.
"If people chose to recognise my role, then I'm grateful. But my gratitude and thanks are reserved for all who took part. You can choose dissent. You can choose duty. The real recognition for Saturday, though, belongs to all of us."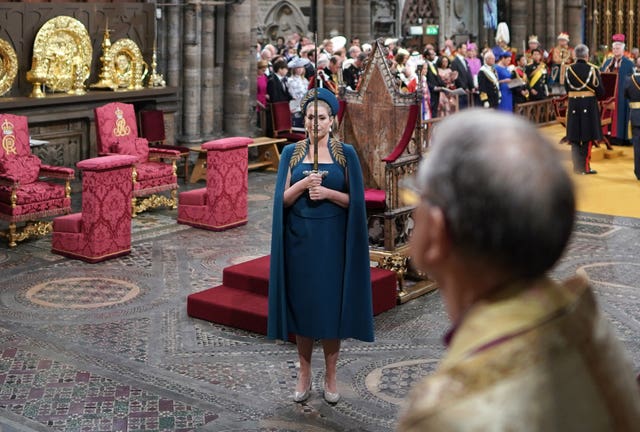 Its silver-gilt hilt features the form of a lion and unicorn and the wooden scabbard is covered in red velvet with silver-gilt rose, thistle and fleur-de-lis emblems.
Later in the ceremony, Ms Mordaunt exchanged the Sword of State for the Jewelled Sword of Offering and delivered it to the archbishop.
The second sword was briefly clipped to the King's coronation sword belt and then after a proclamation by the archbishop, the King stepped forward and offered up the sword.
It was then placed on the altar and redeemed with "redemption money" by Ms Mordaunt.
The sword was later drawn and she carried it in its "naked" form – without its scabbard – before the King for the rest of the service.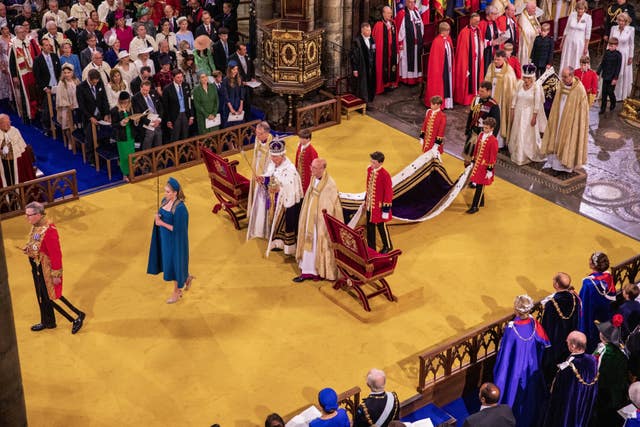 She wrote that since Saturday, she had been "asked hundreds of times about how I felt about the coronation".
She said: "The overriding emotion was one of great love. There are a thousand types of love and a thousand ways of showing it. What we saw on Saturday was a form of love. But we're British, so we prefer the word duty."
She wrote: "Where we were from on Saturday was diverse. Some protested. Most would disagree with such views.
"Most would also defend their right to express them. That's what democracy is about. It doesn't mean unity. It's about dissent.
"Some think democracies are weak because of this and believe autocracies are somehow doing better. The reverse is true. At times like this, we are reminded of what we all have in common. And that we should cherish one another, and the differences and obligations between us."