The return of Stormont will require significant planning and preparation and nurturing from the UK and Irish governments to operate well, MPs have heard.
Caution was also voiced about whether the "mouths of politicians will be stuffed with gold" if the Assembly is restored without plans to introduce revenue-raising measures.
The commentary came as former chiefs of the Northern Ireland Civil Service Sir Malcolm McKibbin and Sir David Sterling, along with former permanent secretary Dr Andrew McCormick, gave evidence to a Westminster committee.
While the Stormont Assembly remains collapsed amid a DUP boycott over the Brexit protocol, the Northern Ireland Affairs Committee is examining the effectiveness of the institutions.
Sir Malcolm told MPs the stability and resilience of the institutions were "dubious at best" but said it is important to remember most want to see the Stormont institutions of government functioning.
Mr McCormick stressed the value of the institutions is in their legitimacy being made up of locally elected representatives, saying: "I'd rather have bad decisions taken by a locally elected Executive on the basis of democratic legitimacy than the sterility and ease of direct rule."
"Getting the institutions operating is the only legitimate show in town," he added.
"There has never been a long period (of government), time to establish patterns, time to get over some of the initial hurdles, so many restarts which means the experience and the patterns of doing government haven't had a chance to get established. It needs time, it needs patience, for me also strong commitment from the two governments… not to say they've come back we can forget about it, there is such a need to support and nurture the institutions."
"We shouldn't necessarily rush back into government. I think it would be worthwhile spending a bit of time to get a programme for government that was clearly going to make a difference, and that had the support of the parties, but was also the product of engagement with civil society," he said.
He also suggested not running the D'Hondt system to nominate ministers until a programme for government is agreed and backed by all the parties.
"I think in support of that there is going to need to be a multi-year budget which would provide the finance to deliver those issues," he said.
DUP MP Carla Lockhart asked for an assessment of the importance of a financial package from Westminster to allow the Assembly to be able to do what it needs to be done.
Committee chairman Simon Hoare asked whether the Treasury should "stuff the mouths of Northern Irish politicians with gold" or offer match-funding to encourage Stormont to find savings or new streams of revenue.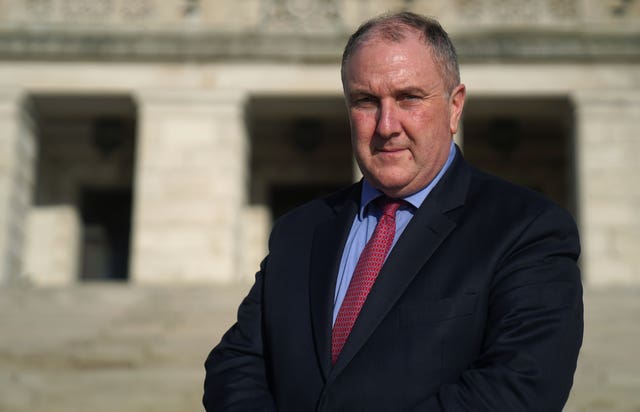 But he cautioned there is resentment in the Treasury that Northern Ireland is looking for more money, "even if in our terms it is justified".
"The Northern Ireland Fiscal Council has identified that if we paid the same level of taxes and charges as people in England, Scotland and Wales, the Executive would have in excess of £600 million a year to spend on public services," he said.
"I think we will need additional money but I think hard choices are going to need to be made… to be blunt, we cannot expect our public services to be of the same quality they are in England, Scotland and Wales if we're not paying the same amount into them."
Mr McCormick added: "Restoring the institutions can't be subject to any real conditions because it's the only legitimate form of government endorsed by the people in 1998. There is no legitimate alternative, and what's in place at the minute has zero legitimacy."